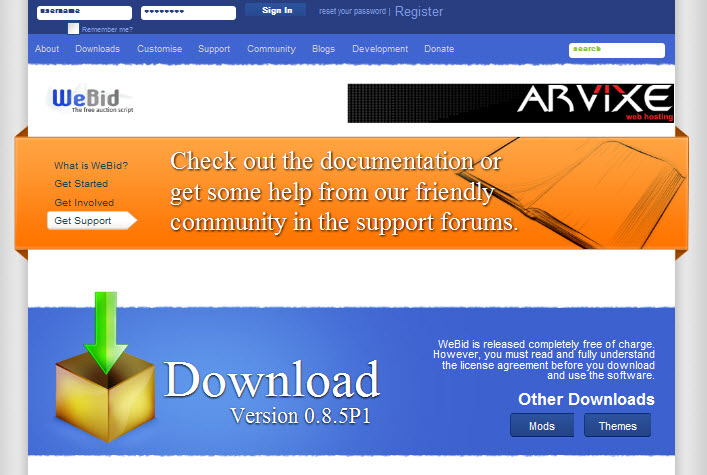 Webid is free software for your business to hold your own online or offline auctions. Whether it be for business or non-profit, an auction style business offers value in times of both economic stress or boom.

What is WeBid?
WeBid is an open-source auction script package.

Although still in beta stages WeBid is one of the best open-source solutions for getting an auction site up and running quickly and cheaply.

Written in the popular scripting language PHP and with a large collection of highly customizable features WeBid is the prefect chose for setting up any auction site.

Some of the key features which make WeBid a great choice are: an easy to use administration panel; a user friendly installation process, which allows you to have your own auction site set up in minutes; an inbuilt payment system allowing your users to easily pay fees and their purchased items with their favorite payment gateways (these include PayPal, Authorize.Net); as well as being incredibly easy to edit to your liking.
Now you can start your own business online and compete with eBay, If you do? Specialize! Here is an example of a successful business that uses the auction format: CPAPAuction
Auction software that you can buy:
To create an auction site will require sellers. The sellers won't use your services unless they believe there are buyers. In this business, it is the question of which comes first for success. The chicken or the egg? The sellers or the buyers?
If I were you? Gather the sellers first. Create an amazing inventory of products. Offer the deal of a lifetime to sellers who are online from the beginning. Get every non-profit group offering products and do so for free. Once you get the specialized inventory (or an inventory for a specific purpose or community), then it will be time by spread the word. As this video says, Ideas that Spread, Win.
Study up a bit on Benefit Auctions before you dive in.