More than likely there remains big opportunities with radio, TV, the Internet and mobile marketing. People are spending more time in these areas but advertisers continue to be old school traditional advertisers.
Their hesitation may be from "average revenue per user" statistics.
The ARPU is short for "average revenue per user". This number shows how much money your are making from a typical customer. LinkedIn makes $7. Facebook makes $5. For unfair comparison's sake, Comcast makes $1,740.
The KPCB Internet Trends 2012 Slideshow from Mary Meeker tells the tale of how the Internet ad revenue now exceeds that of newspapers. That is not the whole story.
Here is a graphc showing the average revenue per use (ARPU) and note which is on top?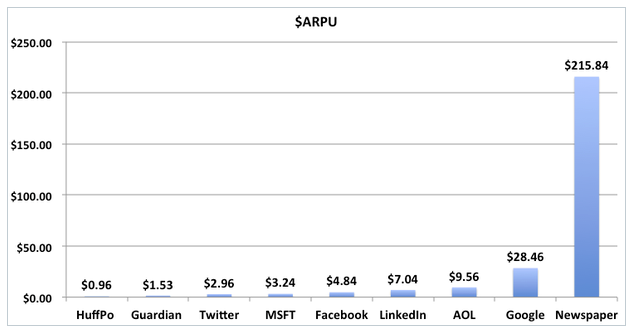 Combine this graph with the next graph which shows where advertisers are buying time vs. where consumers are spending their time and you will have a paradigm shift: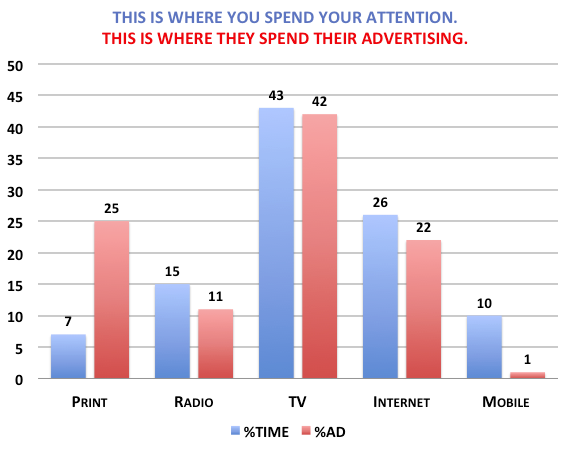 If you believe the trend is to see TV go mobile. Then you will increase your awareness about the mobile marketing options. (Though you will remain cautious in this rapidly changing world.)
These statistics are from the KPCB Internet Trends 2012 slide show:
KPCB's Mary Meeker & Liang Wu did a good job by:
1) Reviewing Internet stats and notes that Internet growth remains robust and rapid mobile adoption is still in early stage.
2) Running through a number of examples of business models that are being re-imagined and re-invented thanks to mobile and social.
It is well worth the time to review this slide show more than once. There are more statistics to make you pause before adding to your marketing calendar.


Here is a resource to help you understand mobile marketing opportunities:
The Most Important Mobile Payment Infographic Ever
Inbound marketing plan will include the Internet, mobile marketing and more. Start your free inbound marketing training today.