Most employees prefer private offices to open-office layouts, according to a recent survey by Clutch. Not all businesses can afford private offices for all employees, though, so they must find ways to adjust their office layouts for optimal productivity.
In this article, we explain how small businesses can create office layouts that increase, instead of hinder, productivity. Use the information to understand how you can tailor your office for increased productivity.
Open Office Spaces Hinder Productivity
Open office designs aren't new, but they were re-popularized by Facebook and Google, which made the design appear attractive, social, and productive.
For some workers, open office spaces work well.
For example, call center workers may appreciate working in an open environment, as call center employees may feel isolated due to the type of work they perform.
Some types of artists and visual designers also work well in open spaces since they're used to working in teams.
News writers often thrive in open offices, like the old newsroom-style layouts, if they also have access to quiet spaces and meeting rooms.
Software company Office Space recommends open office layouts for software engineers because:
Software companies scale quickly, and open-office arrangements cut back on the expense of growing teams.

Software developers often work in small, fluid teams, and open-office layouts allow them to work closely.
Although open layouts allow for increased team interaction, they can also harm employee relationships, productivity, and job satisfaction.
Though promoted as "collaborative," one Harvard Business study discovered that open offices actually reduce employee interaction by about 70 percent.
Another study by Oxford Economics found that the majority of employees (63 percent) say they lack the quiet space they need, which impacts their productivity and job satisfaction.
Most Employees Prefer Private Offices
More than half of employees (52 percent) prefer private offices to cubicles or open floor plans according to the same Clutch survey, and many can't function without quiet and privacy.
Many people, especially creatives, feel that the sensory overload of an open office environment diminishes creativity and productivity.
Marketing content creators, for example, may require private offices because they need time to read, write, and conduct phone conversations with sources.
Certain personality types, such as introverts, also don't function well in crowded, noisy environments.
For many employees, private offices aren't a luxury — they're a necessity. Many require a quiet environment to focus, create, and produce their best work.
Employees Can Thrive in Mixed Office Spaces
Most companies employ a mix of people who perform different tasks.
Ensuring productivity requires companies to create layouts that provide spaces for everyone to work productively.
More than half of offices provide a variety of work areas, according to Clutch, such as:
Personal spaces (74%)

Large meeting rooms (56%)

Collaborative areas (53%)

Lounges and break rooms (51%)

Quiet spaces to work (41%)
Providing employees with personal space to work is another essential element to nurture productivity and satisfaction in employees – most value personal space above all other areas in an office.
Collaborative spaces and meeting spaces are also necessary for businesses that work in teams.
Businesses that can't create different types of spaces due to physical restrictions should consider relocating their office. Retaining employees and providing a productive atmosphere for them to work in is essential to building a profitable business.
Provide a Variety of Workspaces for Productivity
To get the most from your employees, provide them with an environment where they can work in ways that are most productive for them and their job.
A variety of office spaces is usually necessary for companies to foster a healthy, productive team environment.
About the Author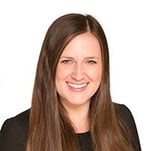 Kristen Herhold is a senior content developer for Clutch, the leading B2B research, ratings, and reviews platform.
Clutch serves as a comprehensive resource for businesses seeking a services partner or technology solutions provider.