BEJING, China, September 15, 2013 - As part of an ongoing effort by Pfizer Foundation to promote access to quality health care, to nurture innovation, and to support community involvement, Pfizer Foundation co-sponsored the Disability Prevention and Control Sub Forum at the 8th Annual Beijing International Forum on Rehabilitation which took place in Beijing September 13-15th, 2013.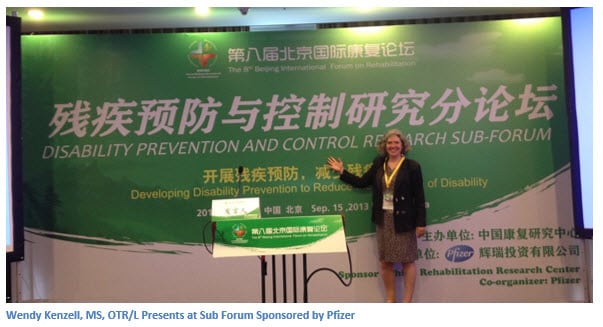 "The Disability Prevention and Control sub forum is new this year," one of the attendees said. Attendees listened to 8 presenters in the 4 hour sub forum on September 15th, including Wendy Kenzell, MS, OTR/L, Occupational Therapist, Author, and Owner of Providing Choice. In her presentation, Kenzell shared about how therapists may provide services at company worksites to actively prevent musculoskeletal injuries such as tennis elbow, shoulder and back pain.
"Therapists can train workers in body mechanics to support the worker's performance," she said. "With training in ergonomics, therapists can also identify changes to both the workplace and to the job to help decrease risk for injury. "
Too often, therapists see patients after their injuries become chronic, disabling issues. By getting in the work place, therapists can provide critical information to workers to help prevent tiny aches from becoming chronic pains. Therapists who successfully collaborate with certified ergonomists, the company administrators, and the company's workers create positive change through promoting participatory ergonomics.
"Therapists working outside of the hospitals to prevent injuries is a new concept in China," another attendee told Kenzell afterwards. Therapists in China typically work in the hospitals, making it difficult for people living in the rural areas to access rehabilitative care.
Public knowledge of ergonomic principals is still developing in China. Proactive ergonomic companies from the United States, such as Humantech, frequently consult with Chinese companies, according to Kent Hatcher, CPE, Director of Business Development at Humantech. Hatcher had recently visited China to provide training in ergonomic concepts to product designers and engineers.
After the Disability Prevention Sub Forum, the 8th Annual Beijing International Forum on Rehabilitation held its closing ceremonies, celebrating the success of international cooperation and learning. Kenzell received the "Outstanding Paper" award for her presentation, and Assistant Director Mi, China Rehabilitation Research Center (CRRC), invited Kenzell to return to Beijing and present again at next year's forum.
The China Rehabilitation Research Center (CRRC), co-sponsor of the Beijing International Forum on Rehabilitation, began operation in Beijing in 1988 as the first rehabilitation center in China. The CRRC, by providing rehabilitation services and education in the field of rehabilitation, not only brought a new branch of medicine to China, but began a societal paradigm shift in the way that people view disabilities.
Pfizers' support in co-sponsoring the Forum with the CRRC helped the 8th International Forum succeed in inspiring and continuing monumental change.
About Providing Choice:
Providing Choice's vision is to promote access to meaningful choices for people of all abilities in order to improve quality of life. As part of this vision, Providing Choice promotes the principals Universal Design, Ergonomics and Occupational Therapy. Wendy Kenzell, MS, OTR/L, Occupational therapist, as owner of Providing Choice, has recently authored the book, "Virtual Pearls Moments in China," in which readers may join an Occupational Therapist's adventures wandering through medical facilities in China.
Related Links: