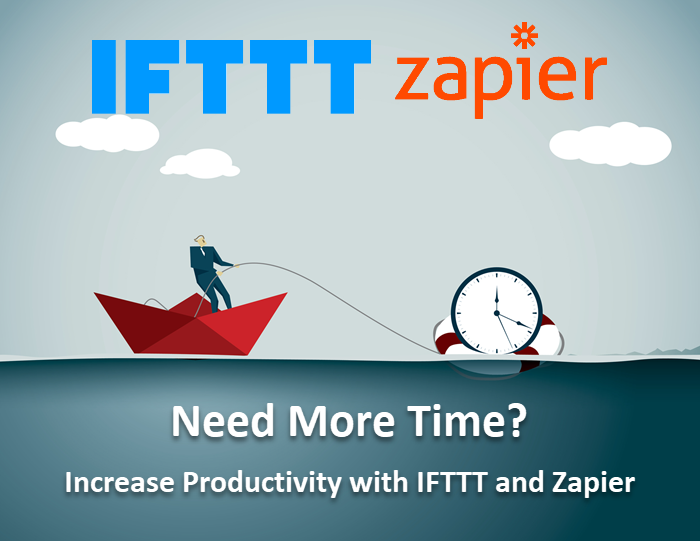 Almost every everyone carries a cell phone in his/her pocket. When one speaks of cellphones, the conversation turns immediately to mobile applications. Amongst the clutter of many apps, products, and services, it is often difficult to keep on top of things. The more options there are to choose, the harder it is to manage.
What if your email client could organize your emails in folders without having to do it manually? What if you could get a notification every time your competitor made a change on their website? What if you could track all hashtags related to your business? Thanks to automation services like IFTTT and Zapier, you can do all this.
Today You Will Learn:
How to create and configure an IFTTT recipe.
How to create and configure a Zapier zap.
IFTTT
If-This-Then-That, better known as IFTTT, is a service that helps you link different products, apps or services together, so you can automate your business, improve productivity and save time. You can connect two products or services to make your work easier. Each connection is called a Recipe.
A recipe works in such a way that one product helps create a trigger and the other provides an action. For example you could program a recipe so that every time you post a picture on Facebook, it posts on Twitter too. Facebook is the trigger while the action is to post the same picture on Twitter without needing you to take the time to do it.
With IFTTT, you save time and can automate your tasks to avoid unnecessary manual labor. IFTTT is popular among small businesses. Since it is open source and free to use, it makes sense to use it rather than paying thousands of dollars to a programmer.
Collect Tweets from Happy Customers (Example)
Here is how you can use IFTTT to improve productivity in your business. When creating a website or designing promotional ad campaigns, you might need to collect positive feedback from satisfied customers. This IFTTT recipe tracks Twitter and sends any positive tweets to your cell phone.
Step 1. Open Twitter and type in your business name and related keywords into the search box you think might influence your business.
Step 2. If the results from the past are satisfactory, make a note of those search terms when creating a recipe.
Step 3. Create a custom IFTTT recipe with Twitter Search as your trigger using the search terms identified above.
Step 4. Depending on your phone, choose either IOS Notifications or Android Device as your action channel to send your Tweets.
You now will receive notifications of positive tweets about your business.
Zapier
Zapier (www.zapier.com) is a similar service that can help you automate your business to improve productivity. You can connect apps and set them up to perform actions to save time. These connections are called Zaps. Like a Recipe in IFTTT, a Zap creates a trigger from one application to another.
For many small businesses, the process of collecting leads and adding them to their mailing lists can become difficult and uninteresting. Leads come from different sources and multiple ad campaigns at various touch points. These leads can be collected and organized in a mailing list in your mailing app as MailChimp.
Using a pre-existing Zap from the Zapier website, you can automate your Facebook which can be automatically saved in Mailchimp. If you have leads on a Spreadsheet, you can automate sending those leads to a MailChimp list and add related information to your subscriber list.
These are just a few of the many tasks that can be automated using IFTTT and Zapier.
About the Author:
Frank Laughlin wants to help bring creativity and innovation back into bureaucratic environments. Through his website ideas2apply, he wants you to push the envelope and challenge everything.