Where does the time go? Time management is much more complicated than during the pre-Internet era. Slipping from the Internet to the brick and mortar and back again in a flash can make even the most organized and disciplined person become distracted and unproductive.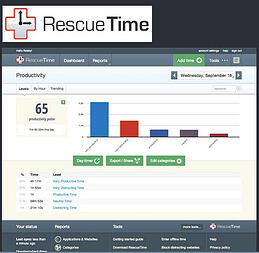 The very software that was meant to save time soon becomes an obsession to conquer and the media hype is saying: "Do more social media" or "Get another badge".
You can track time the old fashioned way. Grab a yellow pad, record activities every 15 minutes and over the course of one week a pattern emerges.
Instead of doing it the hard way, use a tool like RescueTime.com.
As an entrepreneur you need to work efficiently. RescueTime monitors what you do and where you are wasting time.
RescueTime is great because it automatically records your time on the computer, freeing you up from the hassle of keeping a manual log of how you spent your time. But a lot of the time you spend away from the computer can also be valuable, so they've added the ability to track that time as well.
Watch the video to learn more about RescueTime.

You will gain new insights about yourself quickly with:
Detailed Reports
Detailed reports show which applications and websites you spent time on. Additional reports show how much time you spent in different categories, how productive you were, and whether you achieved your goals.
Weekly Email Summary
Stay informed with a weekly email report summarizing your activities and productivity score. Use your report to better plan the new week.
Do you binge? Is your day out of control where email, websites, Facebook or Internet marketing consumes you? Did you hear that Wordpress can help you sit on the beach and make automatic money? Do you now spend your hours working on Wordpess with the hope of harnessing it to your will?
Using a tool like RescueTime may reveal a few uncomfortable truths about yourself. You will also discover things about yourself that will make you wonder how you ever got any work done without RescueTime.
If you are "too busy" and unable to what is most important, RescueTime will shine the spotlight on where your time is spent. Start with a free acount and give it a test. Don't be too hard on yourself and be open to change.