Imagine the United States' food production in one year is a giant pizza. Now, imagine one-third of that pizza gets tossed in the trash. That's exactly how much food the United States wastes each year, according to the United Nations.
Meanwhile, one out of every seven children in the United States may not know where their next meal is coming from. Tackling world hunger is intertwined with fostering respect for food — and your corporation can play a role in that effort.
While your company may not have the bandwidth to repurpose oyster shells into clothing like the outdoor company Mountain Designs, there's still a lot you can do.
With dedicated efforts, making a difference is possible. For example, The World Resources Institute was able to reduce waste by 75 percent in one year.
This article goes beyond the basics to refresh your office with food waste reduction techniques you might not have heard of.
Order "Ugly" Fruits & Vegetables
You can stop food waste before your snacks arrive at the office. Several organizations offer "ugly produce delivery" for fruits and vegetables that don't meet supermarkets' visual standards.
These imperfect fruits and vegetables are fresh, taste the same as others, and are often less expensive. For example, Misfits Market offers a subscription box service with the aim of making it affordable to eat healthily.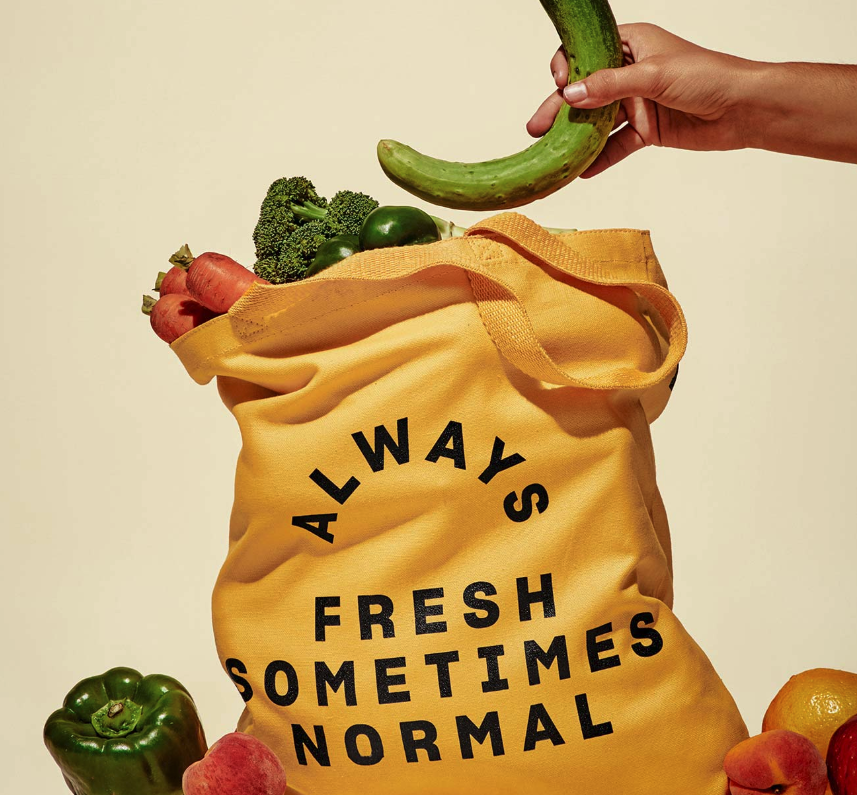 Source: Misfits Market
According to Misfits Market, their delivery service offers 40% cost-savings compared to grocery store prices.
Other services include Imperfect Foods, which offers both conventional and organic produce, and FreshDirect, which has a special service for offices.
Your employees will be proud of their "ugly" produce because each time they eat it, they're making a positive difference.
Replace supermarket purchases with an action that fights food waste, while still delivering the same delicious flavor to your employees.
Shake Up Your Refrigeration Methods
Your company might have a system for emptying the fridge once-per-month or once-per-week. But you should also establish a system for keeping existing items organized.
First, ensure your perishable items are immediately seen by hungry employees. Successful strategies include:
Putting perishable items in the door of your fridge instead of condiments

Placing small quantities of fruit on a counter outside of the fridge

Separate fruits and vegetables— one rotten item can ruin a whole batch
Next step: Be reactive! If the fresh carrots remain visible yet uneaten, all week long, maybe it's time to start stocking your fridge with different vegetables. In addition, make sure your refrigerator remains at 40 degrees Fahrenheit or lower.
Each time an employee goes to get a snack, they'll be reminded of the integral role they play in reducing food waste at your company.
It's simple — throw away less food by maintaining a well-arranged refrigerator!
Reverse Food Delivery with On-Demand Donation
It can be overwhelming to decide where to send food donations and how to get them there. However, other organizations exist to take care of the logistics for you.
For example, instead of ordering food on-demand, consider donating food on-demand. The organization Re-Plate partners with nonprofits to offer an on-demand service for donating surplus food.

Source: Re-Plate
Your leftover lunch could have a positive impact on your community. Re-Plate has recovered two million pounds of food, delivered over 1.5 million meals to nonprofits, and created 48 jobs.
Their specific services include:
A custom dashboard to schedule a pick-up time

The ability to track your driver as they transport food

Help with visualizing your company's impact on the community
Re-Plate is located in 300 cities across North America. If you're not one of them, donating to a food pantry is always a good option. Use the Food Finder to locate a pantry near you.
Planning ahead for surplus food should be an integral part of your event planning strategy.
Recognize International "Stop Food Waste Day
Happy Stop Food Waste Day! On April 24, 2020, you'll inspire change by raising awareness about how food waste impacts your community. Also, the day presents a stellar opportunity to emphasize all of your other food waste initiatives.
There are ways to glean benefits from a special day without hurting productivity. Options include:
Placing infographics about food waste around the kitchen

Holding an optional lunch-and-learn with a speaker

Sending an engaging email with quick tips about reducing food waste

Volunteering with a local food bank after work hours

Hosting a movie night to show a documentary about food waste
These activities illustrate that you're invested in your community. Morale will increase as studies show that employees value leaders with values that align with their own.
Start today by logging April 24, 2020 on your employees' calendar as "International Food Waste Day."
Offer a Fruitful, New Leadership Role
Consider assigning an emerging leader at your company the position of food ambassador. Beyond reducing food waste, this will add value to their experience at your company.
This role could serve as a professional development opportunity. Core responsibilities of a food ambassador could include:
Organizing the fridge to put perishables up-front

Reporting which food remains un-eaten each month

Communicating the purpose and results of food waste campaigns company-wide
The food ambassador will learn time management, data management, and business communication skills. In addition, they'll be able to report measurable results on their resume.
Offering this new leadership role will benefit your office, your employees, and your community.
Take Advantage of Simple, Fun Ways to Reduce Food Waste
Tackling the issue of food waste doesn't mean solving the global challenge. It's as simple as throwing away less food in your office.
Making a difference can be as easy as keeping your fridge organized or spreading awareness on an internationally recognized day with a meaningful email.
In addition, online services make it almost effortless to donate food or rescue produce from the landfill. Ask an employee who's invested in sustainability initiatives to take on waste reduction management as a professional development opportunity.
Mitigating food waste shouldn't be an overwhelming task on your to-do list. Rather, it's an enjoyable way your company can bring benefits to your community.
About the Author
Nicole Schlabach is a Content & Editorial Associate for Clutch, a position in which she leads the company's content processing and sustainability research efforts.