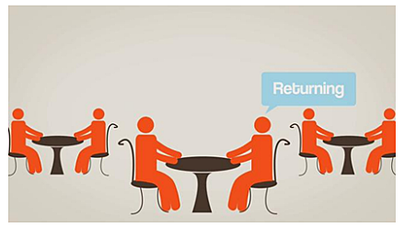 The number 13 has a notoriously negative stigma attached. Hotels in the United States do not have a 13th floor, and the number is generally known for being one of bad luck and avoided at all costs.
So now that the New Year is here, what can we expect? How will consumer behavior differ in relation to purchases based on the economic outlook? Which trends in restaurant marketing will take precedence?
Read on for six of the biggest restaurant marketing trends of 2013.
Visual Engagement
Visual content marketing and engagement are making headway in 2013. Restaurants use images to tell a brand story visually and draw in customers with mouth-watering photographs on items featured on their menu or action shots of food preparation in the kitchen.
Visual content allows customers to relate on the spot. Food appeals every sense, so it attracts people of every culture. Take advantage of today's social media websites and establish restaurant credibility by posting photographs on your Facebook page.
Contribute to a Cause
If your business does not have a reputation for helping out the community, it is time to put a plan in place. A reported 47% of consumers report that they have purchased a brand at least one time per month that supports a cause. More restaurant owners than ever before are contributing to local schools, sports teams, and nonprofit organizations to show their community support.
Spark the interest of consumers by rewarding donors of non-perishable items a free meal. The image of an abundance of packages and canned good donations creates an overwhelming response from the community. People like to see that restaurants are involved and give their business to places that show they care. Nonprofit activity generates additional business.
Positive Buzz
This year, more brands than ever are trying to figure out what creates buzz equity. When your products and services have a positive association attached, buzz equity is built. Websites like Facebook and Twitter are constantly used to drive marketing buzz and excite potential customers.
Buzz marketing works because individuals trust this method of marketing more than businesses that are perceived to only promote their own services. For marketers in the restaurant business, this means you must create your positive buzz through brand ambassadors. Products and services with strong buzz have marketing efforts in place both online and offline to reach their target audience.
Local Relevance
A large percentage of the guests that walk through your restaurant doors live or work within the surrounding 5-mile radius. This is one statistic that has not changed for many years. In 2013, restaurants are prioritizing their local relevance. Partner with local groups or organizations and open your doors to them as a place to congregate. Restaurants should know which employers are nearby to target for catering needs. Connect with nonprofits in the area and reach out to other sports teams and groups and offer your restaurant as a meeting ground, or a place to dine at before or after practice. Before the other restaurants beat you to it, become relevant in a local way.
Food Forward Trends
Today food is scrutinized like never before. Customers have the need to understand where their food is derived and the impact is has on our body and the planet.
The food forward trend creates a plethora of possibilities when it comes to nourishing and taking better care of our body and planet. Country wide, people from farmers to chefs, teachers to scientists are working to create solutions to best care for people, and the world we live in. Consumers enjoy making a difference, and food forward promotes the growth of this trend. Offer information about where you obtain the ingredients you use to cook.
Build Relationships
The traditional marketing methods are moving aside to make room for new approaches.
Today's restaurant marketers have the luxury of taking full advantage of the direct contact technology that links them to their customers.
Collect data and study your findings. Use what you learn as a way to give current and prospective customers the exact products and services they desire.
The year 2013 is founded on the establishment of solid relationships between customers and restaurants. In the past, traditional marketing techniques aimed to push products and services, point blank. The new marketing approach aims to best serve your customers. Take advantage of the multiple avenues that allow you to communicate with your target market. The integration of new marketing methods, such as social media restaurant marketing, will help keep your restaurant from being left behind.
Megan Totka is the Chief Editor for ChamberofCommerce.com. ChamberofCommerce.com helps businesses grow their business on the web and connects you with your local Chamber of Commerce.