Restaurant marketing gurus this information about fundraising programs is for you. How can your restaurant take advantage of this traditional marketing method while also serving the community:
Here is a sample email you might use to introduce and invite someone to think about raising money (by using your restaurant).
Hello,
Our company is proud to introduce the New Chattanooga Area Fundraising Program. The Card you see featured below is all one card that folds to easily fit inside your wallet. I would like to send you an information kit by mail (no cost or obligation) so you can take a closer look at our program to see if you might be interested.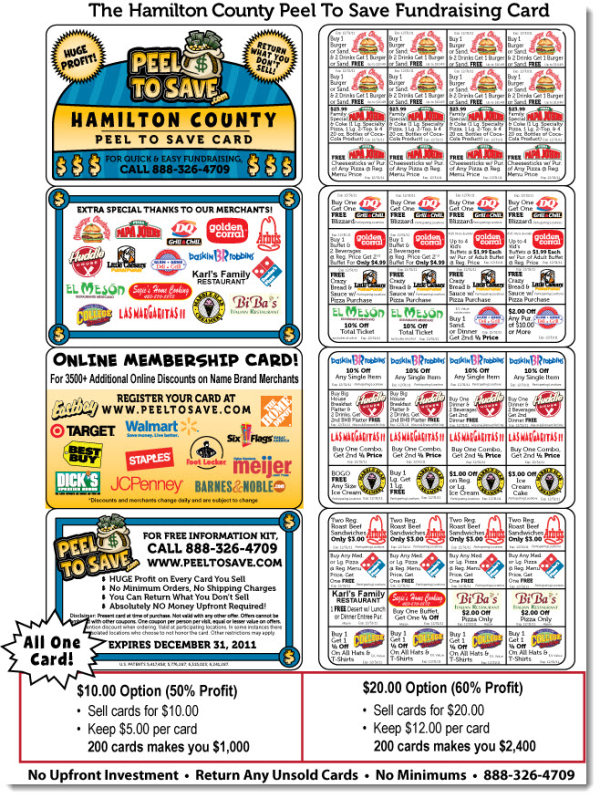 To receive your complimentary information kit please go to ... www.peeltosave.com/hamilton-kit.html
If you are not interested please forward this to any of your fellow colleagues who you think might be able to use this. Thanks for your time!
PO Box 99219 Louisville KY 40269
------ end of email message -------------------
It can be a challenge for restaurant marketing gurus to create fundrasing cards for a restaurant with products, graphics, etc. There are many moving parts and it takes work to coordinate such a project.
The benefits to an organization the fundraiser supports can be enormous. If you create your own card, you might collaborate with other business owners. If your goal is to acquire new customers, this is a great vehicle to open doors and gain more awareness where other marketing fails.
There have been a variety of fundraising cards I have used repeatedly to connect, support and give back to great communities. Before a fundraiser campaign, a restaurant reputation is important since those selling the fundraising cards will have more success if they are enthusiastic fans. There is nothing worse than having someone sell a fundraising card for a restaurant they believe is marginal.
The opportunity is not limited to holidays but during the season of gift giving, they are more popular. You might call them a "Super Gift Card" and put a bow on it.
If you feel the logistics of create a fundraising card is too difficult, reach out to a company such as www.peeltosave.com. I am not familiar with their company which means you will need to do your own due diligence.
Here is a list of companies who will do Peel and Save Cards for your fundraising / marketing campaign.
Peel To Save www.peeltosave.com
Peelers www.peelers.ca (Canada based)
JustFundraising.com web.justfundraising.com/freecatalog1/
Easy Fundraising Cards www.easyfundraisingcards.com
Be sure to get references. Don't pay the final bill until after you have the product delivered. Check the expiration dates, phone number and address.
Local organizations can become your ambassadors if you help them gain as much (or more) as your business.
Download your Restaurant Marketing Planning Calendar Here >