Cooking robots is not news. 50 years ago automated machines cooked hamburgers, hotdogs, french fries and even make a milkshake. The engineers of AMF's Central Research Labs in Stamford, CT invented automated foodservice. This entertaining film (circa 1964) describes a pilot operation for the then-burgeoning fast-food industry.
AMF's Orbis system (shown here) pioneered the concept of electronic ordering, price tabulation, and inventory management in foodservice. Today that is the standard worldwide. However, AMF's Orbis system went further; it electronically controlled the machinery that prepared, cooked, and packaged the food items. AMF's automated beverage dispensers (also shown here) are today common at the "drive-through windows" of many fast-food operations.
Watch as the "new" automated system cooks food fifty years ago:
In 2006, a Chinese restaurateur in Beijing invented a robot chef to make sliced noodles. The robotic noodle expert is taking China's noodle bars by storm.
This robot in 2009 is serving food in a demonstration
In 2011 you heard about autonomous cheeseburger cooking with a robot and Kinect.
Now watch as a human does the cooking:
Remember the story about Henry Ford who changed the world, doubled wages and got it done with innovative thinking.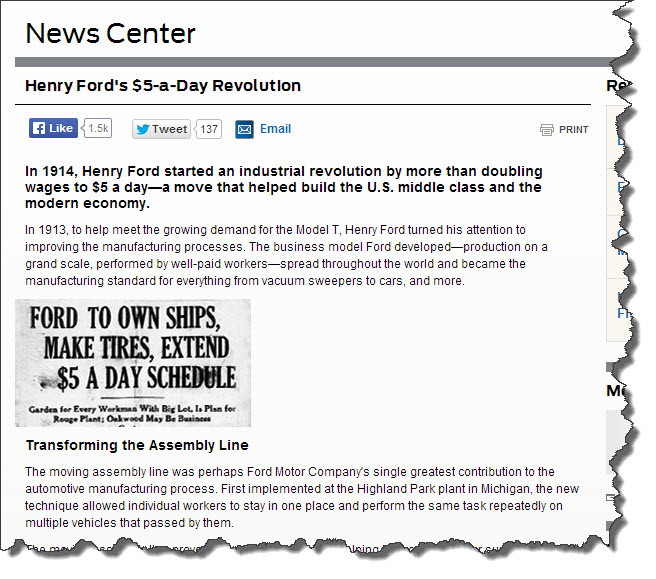 When automatic minimum wage increases became part of the culture in Washington state, my objective was not to think of ways to keep the staff from getting more... it was to find ways to empower them to ensure the growth of sales and profit. Hiring talent, improved training, expanded roles and responsibilities were a part of the puzzle. The most important new mindset was: "How can we market to the staff in such a way that they will be compelled to market to the community?" Sales doubled, doubled and doubled again.
You say... sure, that might be done on a smaller scale but what about the chains? It may be time to consider a different leadership structure where a central hub for making decisions goes away. The thinker in an office in Chicago is not able to maximize on the community activities in Springdale, Arkansas.
Also, in the NEW world of media where every staff person is not just a assembly line worker but also a marketer, there is even more opportunity to extend their roles. A team of marketers who also work the business is a path to doubling sales where everyone wins.
While it is true that many of the activities in a restaurant are repetitive, think beyond the minimum wage issue by hiring those with the best talent, give the best training, remove barriers and provide the tools to excel. Pay them according to the value they bring just as Henry Ford did. You may find it higher than minimum wage. (Or you could buy robots because it looks easier.)
I do have to admit, having one robot on staff does have the benefit of getting more attention.
What do you think?