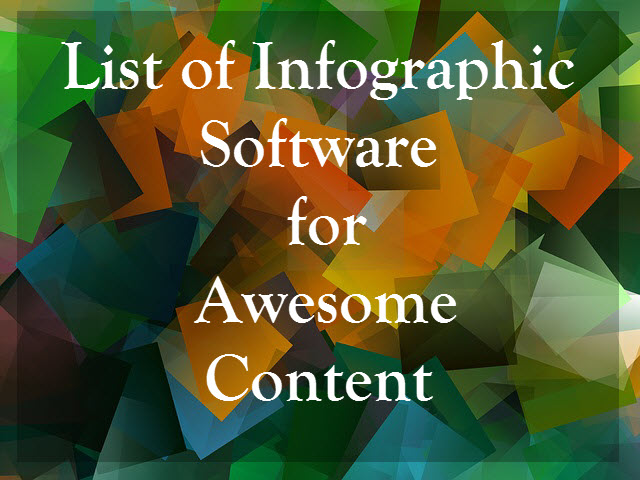 Your inbound marketing plan includes creating infographics which will be helpful, relevant, cool and hopefully will change paradigms to the extent that many will share. With over 2 million blogs are posted on the Internet each day, creating an awesome infographic can be a very effecitve guerrilla marketing tactic to stand out from the crowd.
Warning; Bad infographics are easy to come by and include:
Those that appear to be more of an advertisement than valuable content.
Poor color matching where it looks visually ok but the data is unreadable.
Tiny text which can't be read within the graphics... defeats the purpose.
Old data from five + years ago.
More fluff and sizzle than meat.
Unreliable and/or no sources to back up the data.
Your first option may be to talk with a company that specializes in infographics. They will understand how to gather the data, use the software and create the infographic quickly.
To create an infographic in-house yourself will require research for reputable data sources. You will need to understand how to filter the data so that the readers won't be bored with un-important information. Software programs can be complicated and expensive and referred to as "data visualization" or can be as simple as free flow chart software programs.
Here is a list of sofware used to create infographics which includes the complex and expensive to the low cost and FREE:
Data Visualization Languages:
Graphic Design Tools:
Flowchart Software:
Other Tools:
Shortcut:
There is no shortcut. Combining data from reputable resurces with appealing and easy to read graphics may have you sitting with a calculator and a simple free graphics program or you may bring in the fancy sofware and go with a more automated spreadsheet which automatically does calculations and comparisons.
You better "bring it" or they won't care:
Infographics are much more common and no longer offer appeal simply because they are an infograpic. Outstanding graphics do not make up for bad or unreadable data. Vector graphics and clipart are more likely to be used than real photographs. (You can change photos into vector images with the graphic design tools with a click or two.)
Hint:
Start with the newspaper (online or offline). If there is hot news in the Wall Street Journal or other data driven paper, you have the statistics and the source. The fact that it is fresh news off the press will also mean few have seen the information. If your team is able to take a headline and turn it into an infographic within 24 hours, you will be ahead of the game.
Inbound links are more likely to happen with awesome infographics as long as the information is relevant and helpful. Creating amazing content that inspires people to share with links, likes and plusses is a part of the inbound marketing process.