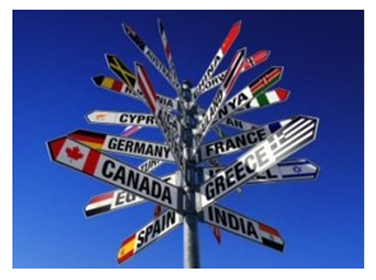 International marketing is gaining online momentum and sweeping the industry as businesses realize the number of opportunities to sell overseas. With a staggering 86 percent of Internet users coming from outside of the United States, it is imperative that businesses move forward with their SEO efforts and market internationally. To best reach your multinational audience, use these tips we've compiled and watch your business rankings escalate to the top in Google.de:
Domain Name
The domain is the starting point as you break the online barrier of communication with your non-English speaking audience. Two types of domains exist: country-specific top-level, and generic top-level. If you're creating a multinational and multi-lingual site, a generic (gTLD) domain will be of greater benefit to your business because people are familiar with the .com, .info, .biz and other similar suffixes at the end of domain names.
Structure
By structure, we're referring to how you set up your URLs. This part of the process not only determines the future of your business growth—it also helps with vital SEO tasks like indexing your website, so consider all of your options and weigh them carefully before making your decision. Changing your URLs later is not a task for the weary.
Translation
After you have your structure set in stone, you need to populate your site with multi-lingual content to reach your multinational audience. In order to rank high on search engines, you should translate your content into the local language even if the site uses English across all geographic domains.
Oftentimes, businesses must outsource this content to be translated by a professional skilled in this area. Websites like Elance.com can provide you with freelancers eager to begin translating your content. The charge for translations is around one cent per word, so the cost is quite reasonable for shorter articles. If you have a several hundred websites requiring a few different languages, keep in mind that the accompanying price tag will not be small.
An alternative is the popular Google translate, which allows its users to switch your content to 65 languages. Google Translate is both free of charge and a breeze to use. What's the catch? The verdict about free translation services is still out. Articles written with spelling errors and poor grammar and content prevent the content from getting the top ranking spots in Google, which is where you want your business to be. It may be worth it to allocate as much of your budget as possible to a professional translation on your most important landing pages, and use Google Translate on the other pages until you can dedicate more of your revenue to translating your entire site.
Keyword research
Prepare a list of niche keywords for SEO, aimed at satisfying your target audience. These keywords will help lead people to your business when they're searching for similar products on the web. Think simple as you create a list of various types of keywords your potential customers may use. Your overseas market is unique, as is the buying behavior, interests and attitudes of your target group. Another tip: check spelling variations so you can feel confident you are best marketing your business internationally. Even countries that speak English still have different spellings of the same word, such as color and colour.
On page SEO
As you examine and fine-tune your content, it's best to maintain a consistent meaning and make sure your users have the ability to switch between languages with ease. Consider setting up a Twitter account or a Facebook page in French, for example. Then put a direct link to these social pages from your French URLs.
Common International SEO Mistakes:
Splash pages are landing pages, many times the homepage. This page offers the user language options. This is an additional step for the user (instead of taking them directly to the correct page) and in turn, weakens the ability of your business to rank high.
JavaScript language translation is the road webmasters usually find themselves on because it's easy. Keep your international content on separate URLs and translated as HTML text.
While content for every possible search term in the English language seems to be readily available, international marketing is the next barrier to break. When done correctly, SEO presents opportunities for growth of your business, so don't skimp on SEO. The above tips can help you succeed outside of your comfort zone. And that means everyone wins.
About the Author
Megan Totka is the Chief Editor for ChamberofCommerce.com. She specializes on the topic of small business tips and resources. ChamberofCommerce.com helps small businesses grow their business on the web and facilitates connectivity between local businesses and more than 7,000 Chambers of Commerce worldwide.