The new browser cookie law in the UK goes into affect on May 26, 2012. It has been a year since the law was put on the books which has given online marketing businesses opportunity to prepare. Most are not prepared for the new law which does not allow cookies to be used without the consent.
Businesses marketing on the Internet in the UK are not ready. According to a poll by the UK DMA, 47% of UK marketers aren't confident that they've met the requirements. The confusion lies in what exactly constitutes "consent" from the consumer.
Many marketers are simply closing their eyes and hoping for the best.
Most have not communicated to their website's visitors: The report states that 3 in 5 marketers don't even have a plan to deal with the law and 79% haven't communicated the changes to their visitors on their websites.
The Direct Marketing Association in the UK has shown a great example for how to get it done:
dma.org/uk has a pop up window appear in the lower right corner to ask permission. I ignored the pop-up as I visited the site.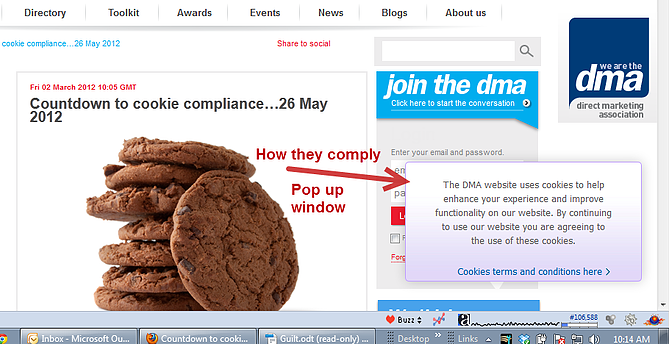 If you're in the UK and you need help, the DMA has a series of guides that can help you get compliant.
Note: The Direct Marketing Association article is a perfect example for how the blog and website becomes a helpful tool others share. This is inbound marketing at its best.
If your business is in the USA, pay attention to which way the wind is blowing. Most small entrepreneurs do not understand that the reason there is data available is because of cookies in the browser. The cookie is a blessing and a curse.
USA does not yet have the same law as the UK but makes you wonder when people say raise their hand and say "No more".