Inbound marketing training teaches you to blog, create helpful content, pay attention to keywords and get found. The graph below shows 10 months of consecutive growth in organic search results when I first implemented inbound marketing as a core strategy in 2009. (The graph only shows organic traffic results.)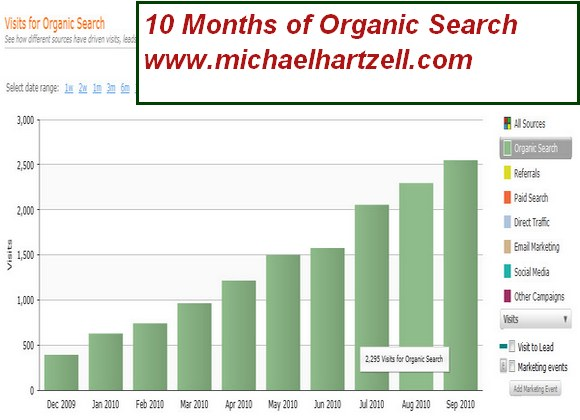 This graph is from my Hubspot software and allows me to also review traffic from referrals, paid search, email, direct visits, social media and other campaigns. This graph includes only the progress made with organic search. The actual search terms are also available in the Hubspot reports but that is for another day.
If your objective is to get found organically in search engines and do not see a monthly increase over the last year, it may be time to contact me.
Here are a few facts, thoughts, ideas and findings I would like to share:
The website is 18 months old.


Inbound Marketing Certified Professional was added to my wall July 2009.


The website and blog were switched to Hubspot software and hosting in August 2009.


The goal was to keep it simple and stick with a minimum of activities.
At the core:

Social Media

Facebook
In person networking
LinkedIn
Twitter

Blogging
Forums (minimum activity)
Guest Blogging
Intentionally did not include these activities the first year:


Article writing
Press releases
Email marketing (Rarely)
Direct Mail
PPC- Pay Per Click
Paid Advertising
Banners
Traditional Marketing
(The objective was to keep it simple.)
Perplexities occurred when:

Certain links to affiliate sites caused the blog rank to drop.
Overuse of keywords (stuffing) affected ranking for keywords.
There was a lack of activity with blogging or social media.
Content was not focused on primary targeted keywords. This created traffic but did not help with leads.
Social media was given a priority some days and took extra time.
Indecision about navigation, layout and appearance was an occasional distraction.
A top priority was:

To assist, help, aide and not to pitch or push people when using social media tools.
Listening to the "buzz" FIRST and understanding the real needs FIRST.
Make people SMink = Smile & Think at the Same Time. TM
Using long tail keywords as a focus vs. targeting the tougher words and phrases.
The purpose was to create an effective and productive website/blog with a minimum of activities. By choosing to stick primarily with blogging for business and social media, the graph shows how results can improve without raz-ma-taz and a long list of activities. (Though patience is required.)
It is said in the inbound marketing training courses that approximately 5 to 8 hours a week of blogging, commenting, and using social media connects a business with the marketplace. This increases awareness and visitors to the website (and leads).
The graph below includes the percentage of traffic which turned into leads for the last 10 months. As you can see the rate is close to 4% over the last five plus months.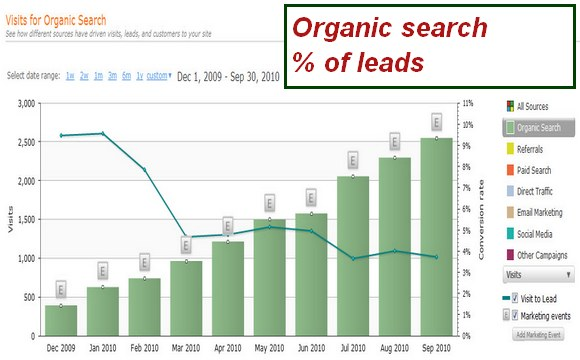 The graph shows how even the basics are helpful. There is not a need to "do it all". The upcoming business plan will include those marketing tools which were set aside for the first year.
There are many more graphs and reports in the Hubspot software but for now, this should show benefits from a basic SEO point of view.
Someone is sitting at Yahoo, Google or Bing and searching for something you can provide. The question we ask: "Will they find your business? How and why?"
The entrepreneur's life is fast and there is little time in the day for "extra activities". Even so, it may be helpful for you to think again about your future and how your website can be more than a phone book reference.
Need help? Contact me here >