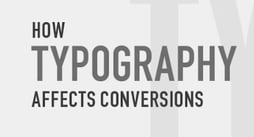 Typogrophy is where art meets type. How does a font matter? Tests show that font choices and sizes can affect conversions in a big way. i.e. Comic Sans inspires the most disagreement according the research shared in the infographic below. Review the infographic below to learn more about how typography affects conversions:
Courtesy of: Quick Sprout
Don't jump too quick with changing fonts. Test and measure.