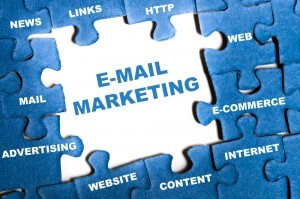 Some people say email marketing is dead – yet in reality this communication channel is alive and quite well. There are 3.3 billion email accounts and the Direct Marketing Association tells us companies make an average of $40 for every dollar spent on email marketing.
Just like it's beneficial to invest in SEO, and email marketing is money wisely spent. Here are some capabilities that email marketing holds for your business and ways retailers can utilize it to generate enthusiasm and boost business sales:
Social Media Integration
Use social media to make emails more interactive. Invite your customers to sign up for your emails on your social media sites. Use popular social media contents within your email campaigns and post your email campaigns on your social media sites. Share teasers of upcoming email deals via Facebook status updates to encourage Facebook fans to sign up for your email list.
Personalize Each Message
While some people think slapping a name on an email makes it personal, it doesn't. Take it a step further and personalize an image with the recipient's name of it. If you sell jewelry, add it to a necklace charm, or if you sell stationery, show an example of some that is personalized. Relevancy and personalization are the keys to email marketing success and content of this nature is essential to stand apart from your competitors' promotional campaigns.
Share New Products
Change the offers promoted based on the shopper's location. For example, a ticket broker could change concerts or sporting events offers based on the physical location of the consumer to make sure the event is relevant to that location.
Make it Mobile Friendly
If your emails and website aren't optimized for mobile viewing, you are losing customers as you read this. Make sure all emails you send, your website and any other information you share about your business online is mobile friendly. Optimize emails to make things as simple as possible for your customers. For example, add a "click to call" button for customers who want to speak with a customer service representative or make a purchase. Shoppers want the purchase to be easy – so customize the shopping experience through mobile marketing and you will likely see a higher conversion rate.
Take Advantage of Geo-Targeting
Geo-targeting is active response to Geo-Location and a great way to help your customers. It identifies the visitor's location and can show nearby store locations, the hours of operation, and contact information for each of those stores.
Take Pride in Your (Email) Appearance
Emails are better received when they're attractively designed, effectively written, chock full of relevant information and tested for prime performance. It's not always easy to compose an email that combines intelligent construction and is aesthetically pleasing. Make sure you understand the variables involved in order to create a message that will maximize your subscriber response.
Email marketing is a practical way for retailers to reach more customers and provides a large return on investment. When done correctly, it is a simple yet effective method to engage customers and increase sales.
How have you revamped your email marketing campaign?
About the Author
Megan Totka is the Chief Editor for ChamberofCommerce.com. She specializes on the topic of small business tips and resources. ChamberofCommerce.com helps small businesses grow their business on the web and facilitates connectivity between local businesses and more than 7,000 Chambers of Commerce worldwide.