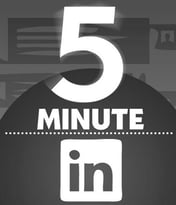 What might be missing in a typical Linkedin marketing plan is a sense of direction or purpose. You may believe Linkedin takes too much time. It has benefits vs traveling an hour to a networking meeting, standing in a room for a couple hours with hope of making a connection and driving for an hour on the return trip.
Motion and activity when networking is not a measure of success. The number of business cards in hand represent a big win.

If you need a new perspective, here is an infographic to help you improve how you use Linkedin:

Source: BlueWireMedia
Strategy
Are you using Linkedin for a marketing strategy? If so, each person you connect with may sense they are a "lead" and part of a strategy and avoid you. If you are writing a script which includes how to coerce, lead, manipulate and push people into your program... you will lose them quickly. The connection you made may exist on the computer screen but that is where it stops.
Humans would prefer to work with someone who cares, who is willing to take a risk, to make a sacrifice, show commitment and ensure a win-win. They are wary of marketers who consider them a "target market" in a marketing strategy.
You can connect with me on Linkedin if you like at contact@michaelhartzell.com. I would strongly recommend that you do more than click a button and send an automatic message: "I would like to add you to my network on Linkedin." Let me know how you are trying to conquer the world or change the community!
Linkedin is a mechanism to do what people do face to face. It will never replace the handshake but it continues to be a great tool to listen and understand.
In fact, if "listening" is all you ever use Linkedin for, it might be enough.