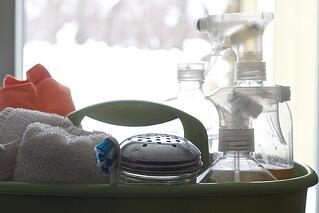 While your mind may be focusing on social media and how to make a Google+ brand page, it's also the ideal time to simply spring clean your business.
Its a great time to schedule your workplace cleanup, evaluate your processes and focus on making improvements – 27 percent of people in a recent survey said they feel disorganized at work.
Here are just a few ways to organize your business so you can work more efficiently.
Give Your Workspace a Makeover
If the thought of de-cluttering your desk and workspace makes you nervous, you're not alone. Just remember that having a tidy office will help you stay on top of things. Start by getting rid of things you don't need. Invest in an organizer if you don't have built-in storage trays for your office supplies.
Tame the Piles
No one likes to arrive at work to piles of paper that seem to only grow in size. It's time to attack those papers – shred documents you no longer need and file those you want to keep. Eliminate piles from your desk in order to get more accomplished without all of the papers serving as distractions. Stay on top of this duty by filing papers as soon as they reach your desk instead of stacking the papers in a pile and telling yourself you'll attack the task another day.
Open Yourself to New Ideas
Take a look around the office. Oftentimes when you see and do the same things on a daily basis, you don't realize that it's time for a change. Go ahead and reach out to customers. Ask about additional services and products they'd like to see available. Create a survey for your staff and ask for suggestions they have received from customers. Consider the new products and services your business can offer. Focus on what your customers like and capitalize on it.
Do Some Traditional Office Cleaning
Can you remember the last time you wiped down your mouse or cleaned your keyboard? This is just one of many tips for a more productive office. Keep equipment tidy so your workspace looks nice and functions efficiently. A dusty desk and a foggy computer screen will make your brain feel dusty and foggy too.
Streamline Your Sales Strategy
How quickly does your business follow up on leads? If you didn't say "immediately," you are missing out on sales. You see, today's sales environment works 24 hours a day, 7 days a week. If you are too slow to respond, your customers may find competing businesses to buy from. Often times, the decision of where they make a purchase from boils down to who can help them the fastest. Don't linger when you have a lead. Use CRM tools that are available at a reasonable cost. Hold your team accountable so they follow up on all leads quickly.
Energize Your Team
It's more important than ever to retain your hard working employees. You don't want your employees to jump ship, so keep them excited by keeping them engaged. You may wonder how to offer your employees the most enticing incentives. So go ahead and ask your employees - let them have a say in what they'd like to do to celebrate their hard work. Think along the lines of monthly luncheons to celebrate your employees' hard work, bowling tournaments, or allowing employees to volunteer on company time.
These are a few of many ways you can spring clean your office and business approach. As spring emerges, tidy up more than just your house – clean up your office space too.
What things will you do to spring clean your business?
About the Author
Megan Totka is the Chief Editor for ChamberofCommerce.com. She specializes on the topic of small business tips and resources. ChamberofCommerce.com helps small businesses grow their business on the web and facilitates connectivity between local businesses and more than 7,000 Chambers of Commerce worldwide.
Image Flickr