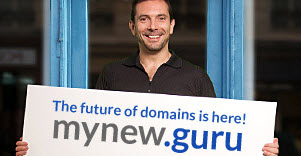 The new domain extensions have finally arrived.

After years of anticipation, the first new domain extensions like .guru, .singles, and .company are finally here.
That means big changes are on the way, and they'll impact more than just the web addresses we use every day. These new domain extensions are poised to totally redefine the Internet as we know it, offering unprecedented opportunities for Internet users to secure unforgettable names and get found online.

Whether you're looking for the perfect name for your website or you want to build up your domain portfolio, your domain registrar is here to help you meet the future head-on.
Precise, Engaging Domain Names are Back
A greater selection of domain extensions means a wider variety of short, descriptive web addresses available. Because these new extensions are term-specific, you will have total control over how to present your ideas, products and projects online, and stand out from your competitors. Here are a few new options that may replace the .com:
.bike
.build
.camera
.clothing
.construction
.contractors
.directory
.estate
.equipment
.gallery
.graphics
.guru - Are you a guru?
.holdings
Extensions like these will not only bring greater choice and clarity to the Internet, they will also provide more localized online experiences. Thanks to upcoming regional extensions like nyc, .vegas, .boston and .london, any website with a local focus will be able to associate their offerings with their real-world locations, and harness web traffic in their vicinity.
Here comes the boom. Entrepreneurs will step up to the mat with BIG ideas.
Entrepreneurs who see the possibilities will have a new place to binge and hoard. Many own hundreds of domain names which sit in inventory unused. These entrepreneurs will never let them go because of the possibilities. If you are one who buys domain names on a whim will no doubt look at the new top level domain choices as candy. It won't be long before your bucket of domain names in inventory will overflow.
There are consultants who will say "Go ahead and buy that new domain name when you have a great idea for a book, project or business." Taking such action on great ideas before a little research is done will leave you with bad domain names. What appears on the surface to be awesome will turn into a lame idea. Everyone evolves and judgment hopefully improves.
And then there are the gamblers, the speculators whose sole pupose is to buy domains, put a simple website on them and then resell the domain names for big money. To be successful with this takes much more Internet savvy and an understanding of true value.
What will Google do with the new changes? They have already said that the domain names have less consideration for getting ranked. Any advantage that comes from buying a domain name with keywords built inside it is very short lived.
Will people trust the new domains more? Will they stick with .com? To be determined. It has already been proven that .com is melded into the minds of those who use the Internet. It will be tough to shake the .com and trust a .guru or .realestate.
There will be many more opportunities to consider and these new top level domains may be the perfect time to add a new meme to the marketing message.
Where can you buy your next domain name? I buy domain names either through GoDaddy or 1and1. Both have great service.