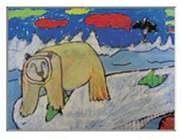 The next business success story begins in the hands of a six year old child.
A child works hard on their art at school. It is the child's first experience with finger paint and there is no doubt that a young Picasso has begun their new art career. The hands and fingers fly across the paper with the kind of diligence that only a six year old has. As the art project is finalized, it is hung to dry. Eager with anticipation, the six year old carefully grabs the new art and runs home, all the while yelling "mom, mom... look what I made you".
Mom is all smiles as she shows her appreciation and love for the one of a kind finger paint art project that looks like a combination of aliens and cows. "This is you, this is dad, this is me and this is the cat," says her very proud child.
These are amazing moments never to be forgotten.
Over time mom develops quite a collection of art by her children. Each is treasured in a special box after a big hug, a smile and an occasional heppy tear. Every one is priceless.
What can be done with those memories?
Artsavor has just been launched and becomes the perfect solution for moms who want to remember and share the amazing talent of their kids.
ArtSavor was born from the combined passion for the love for our children and the belief that presenting their art works in a format worthy of hanging on any wall in the house, will strengthen their self-esteem.
ArtSavor is a family business run by Carol and Chris Rathe.
Carol has a real passion for children's art, having spent years in the local schools as an art docent. She understands how enriching this part of a young person's life can be in developing creativity and self confidence.
Chris studied design in college and has been a lifelong photographer. He has overseen the development of the unique digital bevel mats used in all of the ArtSavor™ Wall Galleries and oversees the e-commerce and production side of creating each unique Wall Gallery.
In addition to the recently launched ArtSavor.com website, they are available on social networking sites: Facebook, LinkedIn, Twitter, and Google+. Pinterest and Etsy sites are in the works.
The feedback in the first week has been tremendous:
"Thanks for the inspiration!"
"Love what you are doing and your website is fantastic!"
"Good luck with your wonderful project. It looks good!"
"Ingenious, I will start collecting my girls' artwork. Looks good - congratulations!"
In addition to the website and social networks, Artsavor is also reaching out to spaces where children create art. Partnering with schools and outside art programs, they are working to bring this unique presentation of children's artwork into part of the permanent collection for the family of the artist.
You may already see the potential these products have for fund raising opportunities which can provide much needed income to both schools and outside art programs.
Carol and Chris are seeking to partner with local galleries in communities across the United States. The excellence of the ArtSavor Wall Gallery final product ensures that the priceless art will be appreciated for decades.
Artsavor's mission is to help strengthen this important part of children's development and education, fostering personal growth.
Launching a new company is a success story in and of itself. Getting to the starting line and having processes in place can be daunting. A new idea that is just a bit too creative will have a line of nay-sayers belittling the project. Persistence and positivity are necessary and both Carol and Chris have plenty of both.
Visit Artsavor.com as you grab that box of priceless art.
Don't forget Mother's Day. Kid's will feel loved and Mom will be reminded of how much she is loved. They offer the perfect gift.
Subscribe, share, tweet and Like Artsavor on Facebook.
There are not many businesses which support families in the way that Artsavor does. Please help them share the love.