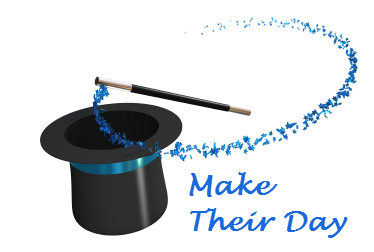 Focusing intently on 'things' can conflict with people who have thoughts and feelings. If you prioritize on Making Their Day, 'things' become tools to support your people priority. Focusing on 'things' vs. people may help you be more impressive but not necessarily someone to trust. To become the person of trust they must know that you are committed to people... not 'things'.
Each of us are given the gift of five senses. Using the five senses to understand the thoughts and feelings of others ensures success. Focusing on things gives a temporary advantage until a competitor does it faster, bigger or for less money with their things.
As much as people need help with 'things', committing to people and making their day will have them doing something that 'things' cannot. People can: Share, Refer, Recommend, Advocate, Link, Sing, Praise and Review. Most of all people can have faith and act on that faith.
Your goal:
As you focus on 'things' to become the expert and trusted advisor, success will come as you make a committment to Make Their Day. You will also be surprised with special rewards as they will love to buy and often times make YOUR day.


Make their day, don't just sell. At the end of the day people will have said something about your product or service but it will be a symptom of your focus on people ... not on things.