The track record and experience Executive Capital Partners® shows a long history of great results, media articles and testimonials; all of which show the true value of their services. On the home page of Executive Capital Partners® you will find an article which was written by San Francisco Magazine.
Executive Capital Partners® manages a portfolio of bankable CEOs who they partner with private equity groups to buy and build companies. They have been in business since 1993 and pioneered the concept of "agents" for superstar executives. The managing director of Executive Capital Partners® is Joe Meissner.
To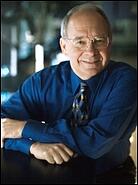 day BizEnrich had the honor of having Joe Meissner make a special trip to Seattle to present his insights with an overview of private equity, "bankable CEO's" and why there is no such thing as "bad times" for those who are top performers who get results.
He is not looking for those who have "potential" and who may be ready down the road. Instead he hand picks CEOs who are well-regarded executives with superstar track records in their sectors.

They are well known "brand name" executives in their industries

Outstanding track records building $200 million to $1+ billion businesses
Desire to invest in and own a company with private equity partners
Financially and emotionally committed to an acquisition instead of a job search
As Joe Meissner shared an overview with the BizEnrich group in Seattle, he told stories of how he trail-blazed by creating new businesses before their time. During Mr. Meissner's presentation, he said there is a rarity of highly talented CEO's who are experts in their field and have the experience with growing a business. He has a multitude of private equity firms as partners who are looking for the star CEO's and solid companies with continued growth potential.
Companies which are gems in the rough and preparing for a potential sale may not be quite ready to for a private equity firm. This is where Joe Meissner can assist as well. Mr. Meissner will make introductions to the people and resources which will help a company transition to the point of becoming a serious contender.
As Joe Meissner answered questions and with his low key, matter of fact approach, you could not find anyone distracted or playing with their mobile device. The one hour presentation was enough to have everyone re-evaluating their own value and the potential for others who do not yet have an exit strategy when they decide to sell.
At some point, businesses must be sold and/or executives move will want to move on. In either case, private equity firms will be an option on the table. Call or email Joe Meissner at Executive Capital Partners®. When will you take advantage of this agency for superstar CEOs which partners clients with private equity groups to buy and build companies?


As seen in: