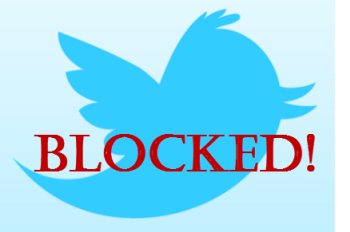 If you believe that blocking someone on Twitter makes much of a difference, think again. If you are being blocked by someone on Twitter, do not be dismayed. If it is so important to you, there are workarounds for this "block".
If you are blocked by someone on Twitter, it may be a message not to engage them further. It may not be worth the time and trouble to engage them further. There are more fish in the sea (and birds in the sky) after all.
Blocked users can't:
Add your Twitter account to their lists.
Have their @replies or mentions show in your mentions tab (although these Tweets may still appear in search).
Follow you.
See your profile picture on their profile page or in their time line. (This means you become non-existent on Twitter if you are blocked.)
Here are a few tips in case you are blocked on Twitter:
Use a Twitter Twitter Software Tool:
A few of the more popular tools are Seesmic, Hootesuite and Tweetdeck. It is easy to follow someone's activity. These tools allow you to "follow" both their mentions and their tweets.
These tools do not overcome the barriers for @mentions, @replies, lists and DM which are restricted on Twitter.
Create an RSS Feed from Their Twitter Feed:
Use RSS Feeds with Twitter?
For those who love RSS and subscribing to virtually anything in their favorite RSS reader, Twitter offers RSS feeds for user updates, Twitter lists, and Twitter searches. During the last few updates of the Twitter platform, those easy to find RSS links disappeared but you can still monitor these things using RSS.
Sociable.co developed a Twitter RSS feed creator that will generate RSS feeds for you based on your input of usernames, Twitter list names, or search queries. If you'd like to manually create the feeds, use the following formats.
For a Twitter User
http://api.twitter.com/1/statuses/user_timeline.rss?screen_name=username
To create a RSS feed URL for a Twitter user, you will replace username with the Twitter user's account name. For example, if you wanted to follow tweets originating from Michael Hartzell, you would change the above URL to:
http://api.twitter.com/1/statuses/user_timeline.rss?screen_name=MichaelHartzell
Start a New Twitter Account:
Since there is no way to know why you were blocked in previous account, it is safe to say: "tread softly".
Who have I blocked?
I have blocked people who mention sex, drugs and war games. I have blocked people simply because their purpose is obviously hype and more hype. If language is abusive and they are doing harm, I block the follower.
Who blocks Twitter followers?
I know of experts who are sensitive and believe in control over every aspect of their brand. If it appears that you offer something that is competitive or distracting, they have blocked others and will probably block you.
"It's not you, it's them" would be a good thing to remember so that you don't resort to crying in in a closet for hours when you are blocked.
Who have you blocked?
Blocking someone on Twitter is obviously not an all powerful tool since there are options to follow as above. Those on Twitter are almost guaranteed to be on Facebook, LinkedIn and Biznik. It doesn't take much connect via the hundreds of social networking platforms online.
Do you know who you have blocked? Can't remember? Blockedbyme.com is a tool to list those you have blocked and also gives you a quick way to unblock them.

Tweeting does not give much opportunity for people to understand intent. Your best intentions may be innocent but the recipient who is bombarded by wolves in sheep's clothing will probably not take the time to research your intent and assume the worst.
Tell them that they are worthless:
If you want to send the message: "I think you are worthless and/or harmful to me and my business", you can block to your heart's content and feel good about taking control. (Even though there are loopholes.)
National Twitter Block:
Iran has decided that about ALL Facebook and Twitter followers. Iran will be blocking ALL Twitter followers as they develop their own intranet.
Read the full story about Iran blocking Twitter and Facebook.
Will you block someone on Twitter?
You may think better of people and decide: "Everyone is a road or a town. While this person following me may not be my first choice as a contact, they know someone who knows someone."
Think about how people are connected before you block; and about whether you are really in control as much as you believe.
Recommended Reading:
Six Pixels of Separation: Everyone Is Connected. Connect Your Business to Everyone.
by Mitch Joel