To analyze your Twitter activity (and that of your competitors), use Tweetsheet or Tweet Grader. Software tools to analyze Twitter such as these will help you understand if you are too much a broadcaster and whether others are truly interested.
Vizify TweetSheet reveals details from your tweetstream, including: top followers, geographic impact, most-retweeted posts, and more.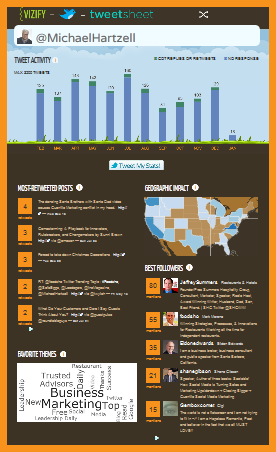 Tweet Grader has an algorithm which considers several factors and grades your Twitter on a curve. Once the grade is complete, it will give you tips to improve.

A quick look of what Tweet Grader considers:
Number of Followers: More followers leads to a higher Twitter Grade.
Power of Followers: If you have people with a high Twitter Grade following you, it counts more than those with a low Twitter Grade following you.
Updates: More updates generally leads to a higher grade. (Don't be a crazy Tweet fiend.)
Update Recency: Users who are more current (i.e. time elapsed since last tweet is low) generally get higher grades.
Follower/Following Ratio: The higher the ratio, the better. (With other factors considered.)
Engagement: The more a given user's tweets are being retweeted, the more times the user is being referenced or cited, the higher the twitter grade.
Read the complete details about Tweet Grader here.
A word of caution if you are new to the virtual jungle:
For all things software, the world is not black and white. There is no software tool which can consider every variable and answer every question. These tools are not like the speedometer /odometer on your car where science and physics are at work. Combine the information from these two tools and you will certainly be miles ahead of others when anaylizing Twitter and tweets.
These tools fall under the umbrella of inbound marketing. If you are interested in learning more about inbound marketing, begin your inbound marketing training today: