The Associated Press reports Washington state's minimum wage remains the highest state minimum wage in the country. This is not the actual highest minimum wage in the country since San Fransisco's minimum wage will increase to $10.24. The federal minimum wage is $7.25 per hour.
Each year Washington's minimum wage is adjusted. The minimum wage adjustment is based on inflation as measured by the Consumer Price Index for the past 12 months. The consumer price index is up more than 4 percent. The yearly recalculation is required by Initiative 688, which was approved by Washington voters in 1998. .
How does your state rank in the bigger picture for minimum wage? This map shows an overview state by state for minimum wage vs. the federal minimum wage.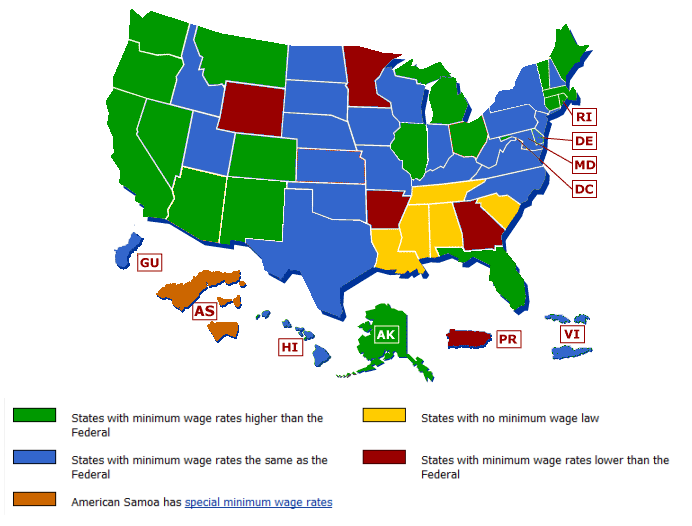 Basing wages on the minimum requirements by the governement usually leaves staff with little respect or passion. "We pay minimum, be happy that you have a job" leads the employees to having thoughts such as "How can I get what I am owed?"
The real cost for employees when at a minimum base is much higher but the added costs can be invisible. More technology, ERP, and improved systems to monitor activities can increase control and hold employees more accountable, but these do not motivate employees to be the best.
We then have businesses basing wages on minimums which is a reflection of all other decisions. "I pay the least and buy the cheapest in every case" is not only seen in wages but can also seen in the paint on the walls, service standards, training, supplies, and marketing.
Minimum will get minimum results. Once a business owner has a reputation, the best opportunities will walk on by and those with potential super star applications will not be available.
I have a reputation for having free software for business handy for anyone in need. This is not because free software is the best nor is it because I think in terms of minimum. Free software is perfect for doing marketing tests and lowers the risk for ROI. Once the learning curve has been conquered and the real value of the software assessed, a plan can be made.
You can be a minimum thinker, never go over the line of paying people more than necessary and only using free software. How does thinking minimum help you stand out from the competition? How does being a minimum thinker attract the best candidates when building a team?
Minimum wage is increasing in eight states on January 1, 2012. Here is a list of states hiking the minimum wage, with the amount of the increase and the new wage as of Jan. 1.
Arizona, 30 cents, $7.65.
Colorado, 28 cents, $7.64.
Florida, 36 cents, $7.67.
Montana, 30 cents, $7.65.
Ohio, 30 cents, $7.70.
Oregon, 30 cents, $8.80.
Washington, 37 cents, $9.04.
Vermont, 31 cents, $8.46.
If this has a major impact in your business then maybe it is time to think beyond minimum and begin to create a vision that is grand where the minimum wage is simply a number that has nothing to do with your business.