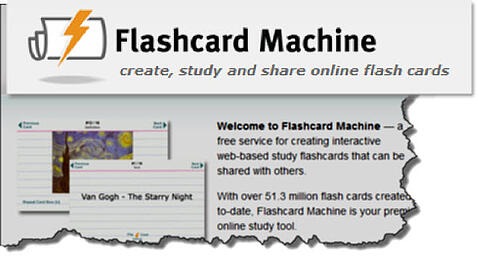 Flashcard Machine is a free online training service for creating interactive web-based study flashcards that can be shared with others. Based on the mantra of "Knowledge Empowers so Learn & Teach", I hold online training resources such as this in high regard. You can put it to work in minutes and is easy to learn.
As you sign up for the Flashcard Machine, you will note there is a "Quiz Me" option which lets you know when you get the answer right (or wrong) and keeps score along the way.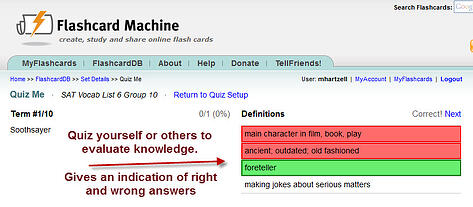 The Flashcard Machine gives the option to create a Printer Friendly HTML version. The system does not limit you to just online.
Who will find the Flashcard Machine valuable?
Students — Students can create flash cards to study for the next exam. Once they are created, the flashcards can be shared with either classmates or the entire community. Competitions can be created and this is a great tool for study groups.
Since the Flashcard Machine is now ready for the iphone and Android, students will appeciate cramming for the test via their smart devices on the way to class.
Teachers — Teachers can create flash cards for their students. Build customized pages for each of your classes to better organize your cards.
Professionals — Once a professional or business owner begins to learn about the Flashcard Machine, the opportunities will become apparent. Create flashcards for a certification exam, court case, training program, etc. You will see how the Flashcard Machine can be used for training staff about menus, policies, customer service processes, personal development, sales processes, equipment details, and the list goes on.
51.3 million flash cards have been created to-date. The Flashcard Machine is your premier online study tool and with the "Quiz Me" option, which can be used online via the computer or mobile device.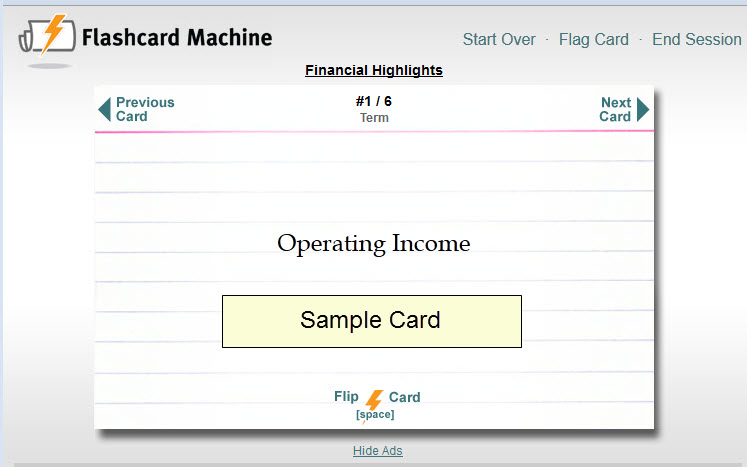 Available on the iPod®
Study your flashcards on your iPod® with our exclusive integration with iStudyToGo.
Available on the iPhone®, iPod touch®, and iPad®
Study your flashcards on your iPhone®, iPod touch®, and iPad® with our app available on the App Store.
Many new features have been added to the Flashcard Machine:
An app is now available in the Android Market.
Improvements to the Quick Editor.
Available is an ad-free version of the site for supporting members.
Added a getting started guide.
Saved study sessions can now be accessed via MyFlashcards.
Added the option of creating folders for organizing cards.
Favorites can now be synced to the iPhone® app.
Added a multiple choice quiz feature. (this is a great feature)
Enhanced the import feature to support XLSX files.
Added the ability to move/copy flagged cards between sets.
Enhanced image management.
Auto-flip can now be paused during a study session.
Additional printing options to support six cards per page and 5x8 index cards.
Added an option to set a default alignment for card content.
Sets on Flashcard Pages can now be printed.
Search functionality to MyFlashcards.
Re-ordering cards now supports alphabatizing by term or definition.
Increased disk space for audio and images.
Audio flash cards.
Entrepreneurs are not typically focused on training and development. Soon after hiring someone who might be a "star", the words of "You're Fired" can be heard. The would be star who was in reality in need of training had good intentions. The goal of an entrepreneur is to find someone with talent, it is not to invest money into training and development programs.
The Flashcard Machine may be a game changer for entrepreneurs who do not have the time or resources for training programs. Creating a series of flashcards online allows the staff to be the best.
Are you trying to pass a test, keep up with the boss or train a team? The Flashcard Machine is one to add to your resources.