How can I make a QR code pointing to my personal Web site that I can attach to an e-mail signature?
Several websites will convert your website URL into a QR code (Quick Response Code). You may have noticed those square-shaped codes popping up on ads, billboards, business cards and store fronts. Once converted, you can download the QR code image file and then attach it to your e-mail signature, upload it as a Facebook profile photo, print it or post it online. There are also QR-conversion sites which can encode maps, text, phone numbers or RSS feeds.
QR Code for www.michaelhartzell.com via Google url shortener
Which websites will convert your website url into a QR Code?
QR code-generating sites include Kaywa, Qurify and Delivr. The Google URL Shortener will also create a QR code file from a shortened link — just click Details to see the image file..
Kaywa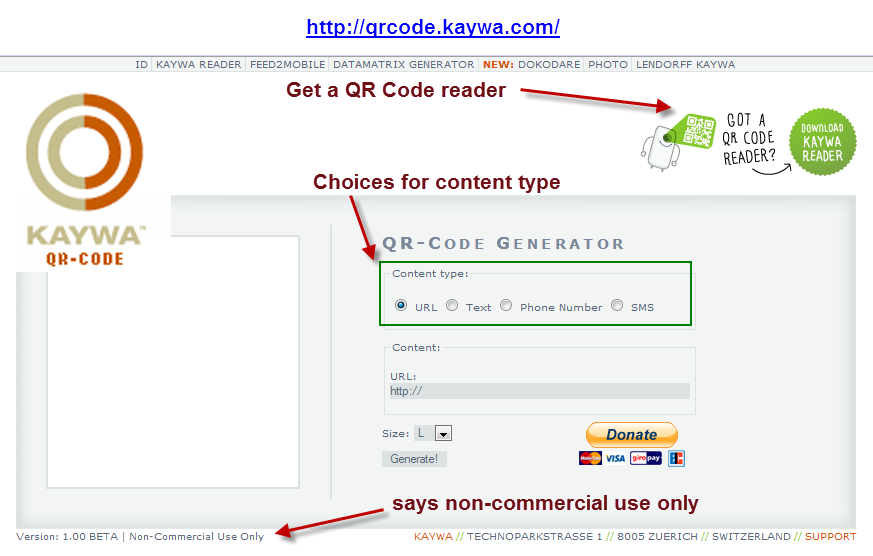 Qurify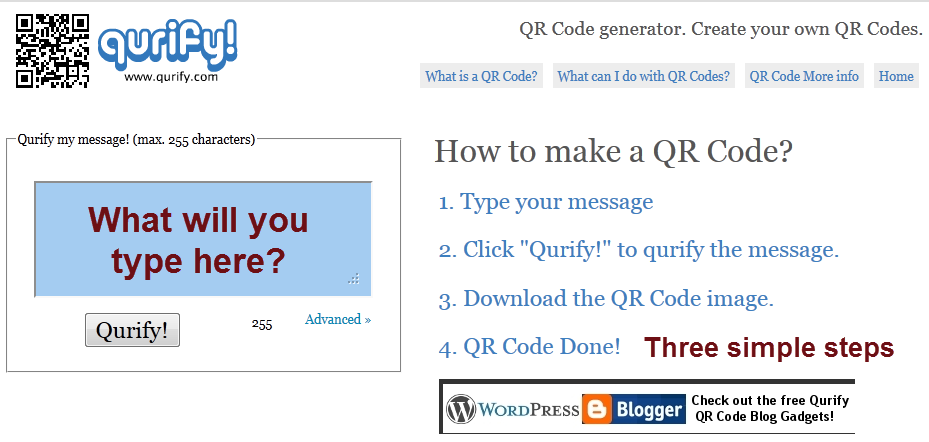 Delivr


.
Google URL Shortener - QR Code Generator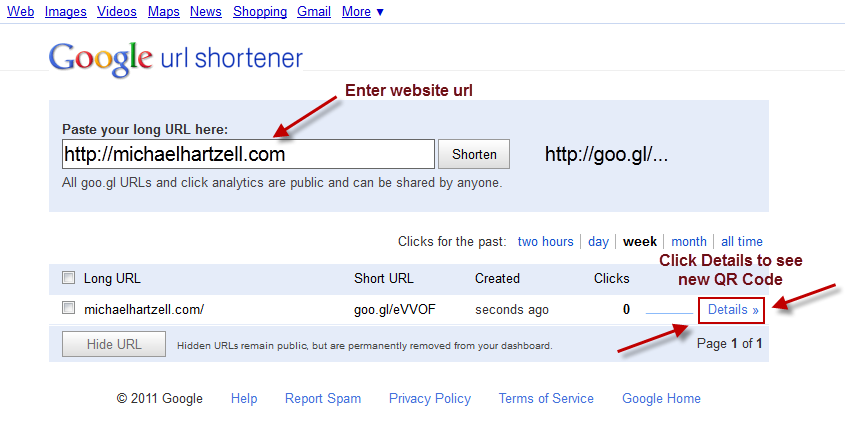 JumpScan.com
JumpScan.com lets you create an "all-in-one" QR code which includes your web site address, phone, contact info, and social media feeds. Your personal QR code can consolidate all your contact info into one online profile page that's pre-optimized for the mobile screen.
What is a QR Code? (abbreviated from Quick Response code)
The QR Code is a type of matrix barcode (or two-dimensional code) first designed for the automotive industry. Quick Response codes are basically two-dimensional bar codes that can be interpreted by a mobile phone camera equipped with a code-reading app. The code consists of black modules arranged in a square pattern on a white background.
Once the QR code is scanned, for instance, the Web address embedded in the image pops up on the phone's browser, saving the phone's owner some typing.
The use of QR codes is free of any license.
Risk of QR Codes:
Malicious QR codes combined with a permissive reader can put a computer's contents and user's privacy at risk. QR codes intentionally obscure and compress their contents and intent to humans.
What happens after you have a QR Code?
Once you embed the QR Code on your website, email, Facebook, business card, sign on the building ... those with smart phone which have QR Code readers will be able to scan the QR Code.
To fully utilize QR Codes, smart and savvy mobile phone users will have:
Camera
QR Code-reading software (see the list of resources below)
Web Access
Here is a list of resources to download QR Code-reading software:
Blackberry
iPhone

QR Codes will help ensure that people can instantly connect to the information that they need when they need it regardless of where they are. No longer will they be limited to a desktop computer.
I have an App, now how do I "Scan" the QR Codes?
To scan QR Codes, start your QR Scanner App and follow the on-screen instructions. If you see a frame in which to focus the QR code, align the QR code in this box and the application will scan and read the QR code data. You may have to click or tap the URL to continue to the site which, depending on the type of myQR code, may redirect you to a website, or allow you to download a vCard file.
You are now ready:
You now have the resources to create a QR code, a basic understanding about what a QR code is and the scanning software that your potential customers will be using.
You will no doubt have a few ideas along the way. Special offers, holidays, events and much more will become QR codes. The advances in mobile technology and QR codes will not shout at you. The progress will be invisible and those who look for and do not find your QR code will simply move on silently. At some point, you will add QR codes to your marketing plan.
Plan to put QR codes on your marketing calendar.