Business success evading you due the fact that you don't type? For those of you who say "I hate to write" because you have the one finger poke method for typing, Nuance offers a way to basically email, text, tweet or post on Facebook with your voice via a mobile device.
Whether you own an iphone, Blackberry or Android, Nuance (Which makes Dragon Naturally Speaking) has a way for you to get it done.
Dragon Dictation for iPhone, iPad and iPod touch from Nuance lets you to speak text for emails, text messages, status updates and more, and see your text appear instantly.
Dragon for E-Mail for BlackBerry from Nuance lets you speak text for your emails, including the contact details in the 'To' lines, the subject and the body.
FlexT9 for Android from Nuance is a unique four-in-one keypad app that lets you Speak, Trace, Write or Tap your text for emails, text messages, web searches – anywhere you input text.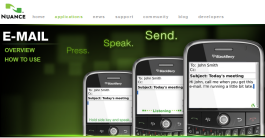 Visit Dragon Mobile Apps to learn more about the apps listed above in addition to other exciting mobile apps.
Other partner options include:
You may want to do the reverse and take text to an audio mp3 file.
The option to turn text into an mp3 audio file can be had here:
VozMe allows you to type text and turn it into an mp3 file. Choose a male or female voice.
Other options to take text to voice are here:
Once you understand how to use the tool use the spoken word to email, tweet, post on Facebook and text... (or vice-versa), that opens up the world to a new way of marketing which includes blogging.
What other barriers are holding you back from moving forward?