Smart Phones. At the beginning of last year, Nielsen estimates that by the end of 2011, smartphones will overtake feature phones in the U.S. That date is only a few months away.
One in two Americans would have a smartphone by Christmas of that year, Nielsen had forecast, compared to just 1 in 10 in the summer of 2008.
While it may have been acceptable in 2008 to "wait and see", it is time for the smartphone trend to have an impact on your decisions.
A lack of awareness of the trends becomes a barrier to decision making. What you don't know may hurt you as the world shifts. With more activity and options, there is not one clear trend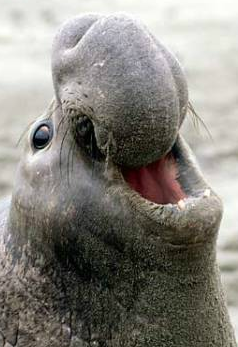 as you can pursue your special interests with a passion.
One clear trend that should be as plain as the nose on an elephant seal.
Smart Phones
The smartphone creates a need for immediacy to give service, solve problems and handle complaints. The old days of taking advantage of the "dumb consumer" is fading as the potential buyer will have information with a touch of the finger before making a purchase. This is the year to change the process for how to implement a marketing plan, promote, follow up, be available for complaints and upsell. This is the year to add text marketing, QR codes, update the current webste for mobile (which can be done free), ask for mobile phone numbers instead of a home phone.
Here is last year's projection of the future (which is now).
To make the point further, here is an infographic showing how we did things before the smartphone and how we can do it now.
The downside: Un-informed, un-educated sales people are being trained to sell new products or services which are specific to the buzz around mobile phones.
It is unfortunate that the world now has a new army of folks selling overpriced products to business owners who work hard and trust too much.
While the smartphone will revolutionize the way people connect with each other and the world, one thing has not changed: People and companies take advantage of those who are uneducated and naive.
On this topic, there is more to come.