Pew Project's Survey reports that email and search engine activities top the list for Internet users. This study by Pew Research Center's Internet & American Life Project will have non-believers of inbound marketing re-thinking their marketing strategies.
The Pew Project's Survey in May shows how search engine is at the top of the list of most popular online activities among U.S. adults. It is not alone at the top. Among online adults, 92% use email, with 61% using it on an average day.
Search engine activity has increased since 2002, and in fact, the report shows the younger crowd using search significantly more than those over the age of 65.
These statistics are not difficult to find nor a secret. They are available at www.pewinternet.org and there is no fee, no opt-in nor will you find deadlines and marketing hype.
The statistics seem unimportant to many small business owners who use the Internet themselves for search but do not think too deeply about how to maximize the new culture/technology. While the large companies gain momentum, the "little guy" works harder and longer and to achieve the success they once had.
Since nothing remains the same, if you fall into this category... you might be considered "stupid" by business leaders who are taking advantage of the new technology. Why are you not taking the opportunity? Yes, it appears "difficult" because it is new. New things can appear difficult. Installing curtain rods, setting a mouse trap or putting a BBQ together can be overwhelming.
The objective is NOT to duplicate what large corporations are doing. The strategy relies heavily on "speed to market and personalization". Every entrepreneur has the advantage now but until they use the marketing power that each has in their possession, the larger companies will prevail.
As you can see from the graph above, search engine activity is not hot news. Search continues to be the dominant activity online. One note: there has been a dramatic change and increase in activity with social media. (This is not news but statistics shows how it has not impacted search or email activity.)
How frequently do these activities occur?
Pew Project's Survey shows how the data breaks down;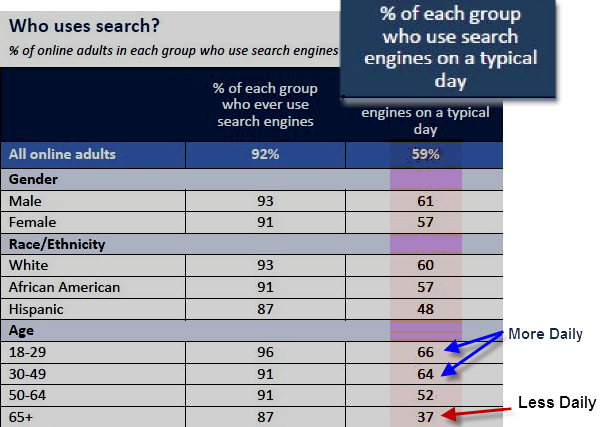 What is of interest is the search activity on a typical day by those from the ages of 18 to 29. They more active than any other age group.
This makes a case that the continued strength in search engine and email activity will prove inbound marketing to be increasingly valuable as a marketing strategy. Working harder offline can yield results but smart business owners will take advantage of the opportunity of inbound marketing where search engines, email and social media are at the center.
This report will motivate companies to increase the number and frequency of emails. While social media is a hot topic, search and email are now habits vs. conveniences.
If you are wondering how to take advantage of search engine and email dominance, you can start your inbound marketing training today. It's free.