Do NOT use consumer profiles for your business on Google+. Do NOT create a business page on Google +. Think of Google+ as an extension of your "person" and not your business.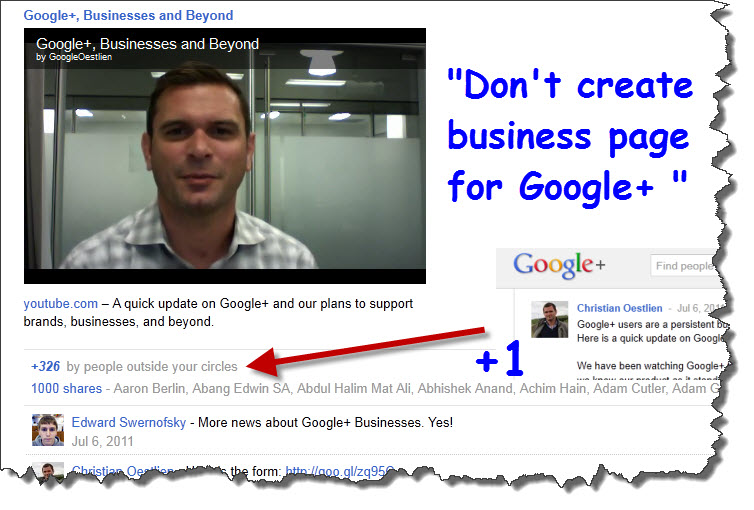 This request came from Christian Oestlien who is a Google+ product manager. You can watch the video to learn from him directly.
As you just learned, there is business Google+ page in the works. There is a pilot program in development for businesses. If you represent a "non-user entity" (e.g. business, organization, place, team, etc.) and would like to apply for consideration in the limited program (and be amongst the first to be alerted when the business product launches) you can sign up here:
http://goo.gl/zq95C
If you are a successful entrepreneur who has a keen sense for the five essentials to business success then you are looking forward to being accepted as on for the business pilot program of Google+.
If you are not a successful entrepreneur and struggling with implementing the five essentials to business success, being part of the Google+ pilot program will only distract you. Your best next step is to contact me.
In the meantime, there will be plenty of buzz around Google+ and the noise will double the amount of junk you hear online. Every garage will be full of young opportunists ready to sell you information that is "secret" or "must act now".
If you want to take a tour of Google+, you are a click away: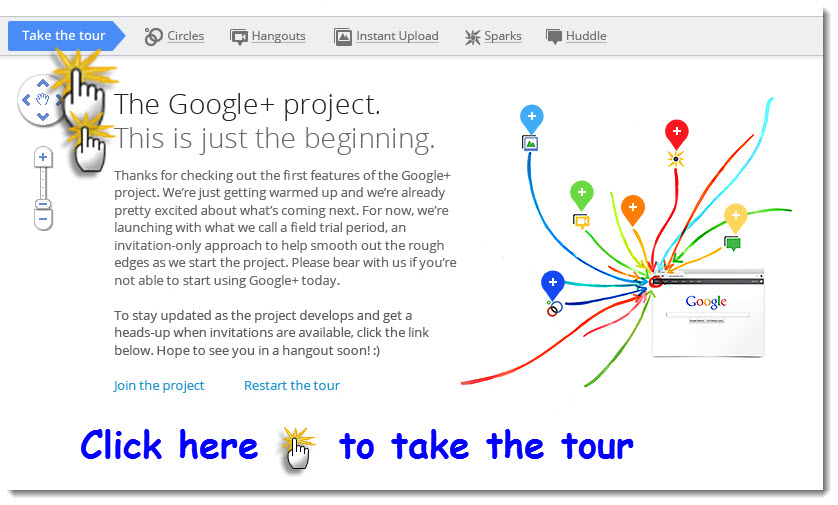 Consider for the rest of the year:
If you purchase software or information from a business which focuses on selling to the fools of the world; what does that make you? Facebook and Twitter has brought a boat load of wanna be entrepreneurs who hope to take advantage of knowing plenty about the "new changes". Google+ will add to the hype and confusion.
The answer; Go to the source. The information is free and since it is from the source, a better authority than hand me downs.
If you get stuck, every platform has a help section. Unfortunately the social media platforms are not known for customer service. It is not a simple process to pick up the phone and get help. This is reason enough to not rely too heavily on social media as the cornerstone of your business.
On the other hand, when you reach out to the Biznik team, they answer you personally. Because of their passion for service, Biznik stands out as more than just another "social networking site".
The take away today is:
Do NOT create a business page on Google+. For those of you not included in the invitation stage, patience is a virtue and the opportunities are already around you for growing a profitable business.
Do NOT get caught up in hype. A successful guerrilla marketer knows the importance of creating precise and purposeful plans.
If you have not yet done so, complete your free inbound marketing training.