There are rules to inbound marketing and SEO. Not rules, call them guidelines. "SEO Principles" might be a better way to put it. Daily tasks are performed online to get found by search engines. Just as all other forms of marketing, it is in the same bucket as: Part science, part math, part art, pieces of psychology with street-smarts (tacit knowledge) combined with book knowledge (explicit knowledge).
Below you will see an example for how the rules appear to be broken. SEO and getting found is not necessarily an exact process.
Google: "Business Success Tips" (without the quotes)
You will find a variety of websites, all of them with the three words - "business", "success", "tips" in some combination in the title and description. The title and description in the search results are often times the same as what is created on the website. This is not a hard and fast rule.
Taking a look at the graphic below, you will see there is an exception. While other search results on the first page have some combination of "business", "success", "tips"; one search result is missing one of the three words. Even without all three keywords, businessweek.com is showing up on the first page of Google.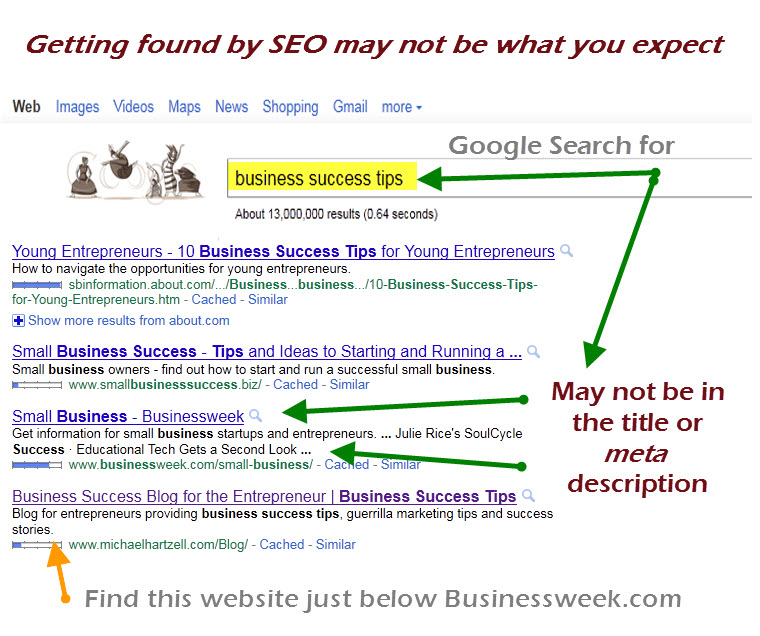 The challenge is: A marketing department is not as much in control as hoped. The entrepreneur who holds an SEO company accountable for results may find the slope slippery at times. Following SEO rules and doing the daily tasks may not have the expected results.
This is nothing new. If an advertisement is ordered or a phone book advertisement is made, there is no guarantee for position unless there is a bigger investment. When a TV advertisement is placed, only the very big spenders can be guaranteed placement. Guaranteed placement for advertising in the past or the future will take money and resources.
On the other hand, this also says "you have a chance". If your expertise on a topic is far beyond others and people are referencing your website, linking to it, and writing about it; there is a good chance you can climb in the search results as an authority. Wikipedia has the world writing its pages and they do not think "SEO" yet they continue to be found by the search engines.
This is one more example to show that marketing in the virtual world with SEO, SEM, and SMM is not an exact science. In fact, the target is moving rather than stationary.
The best way to understand how to be effective online is inbound marketing training. The training is free and the videos were made by professors with high expertise.
Start your inbound marketing training this week. Improve your chance for getting found, converting and analyzing results.