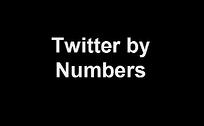 Social media marketing is becoming like traditional marketing with a twist. While it began as "conversation and connection", a recent study posted on Yahoo Research shows how roughly 50% of the tweets are generated by an estimated .05% of Twitter users. Media is the top producer of information and, of course, we could have guessed that celebrities were the most followed.
The video shares a few numbers about Twitter.
Download the complete pdf here. twitter-flow.pdf
The entrepreneur who is marketing via broadcasting is now battling a very full field and there are hundreds of thousands of new accounts opened each month. Automation with tools such as Hootesuite and Socialoomph will increase efficiency but too much automation becomes a wall vs. a bridge to those in need.
The advantage of social media, of course, is the ability to narrow down niches, keywords and interests. There are less secrets about what people buy, where they hang and their favorite "stuff".
For an entrepreneur to go head to head with media companies and large companies is not as effective as personalization and superb execution. Instead of broadcasting in automated formats, it is about listening, connecting, and sharing interesting and helpful information. It is about conquering the world and changing your community.
Making your own video is amazingly easy.