Business success tips are tossed out like candy and one which is repeated consistently is: "Be original" or "Have original content".
Even Google is forcing the hand of the online entrepreneur for originality. No doubt the news from Google which emphasizes quality content and "war" against the junk on the Internet has many Internet entrepreneurs thinking twice before adding more fluff to a website page.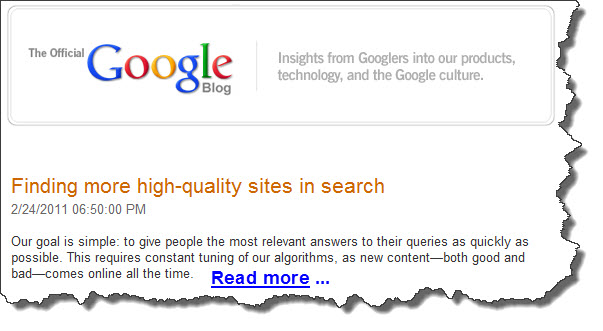 Jeffrey Gitomer approaches originality by saying; "Don't read the books of today. If you want to learn something new, read a book a hundred years old."
The question is not "how to be original", the real question is: "how to appear untypical."
There are 7 billion folks hanging out which makes it tough to stand out.
Consider:
Everyone wakes up in the morning as an original. By the time you have picked up your breakfast fork, you have been inundated with the sounds of family, friends, media and social media. By lunch time interactions with your boss, peers and customers have added to the list of interruptions and distractions leaving you in a constant state of "reaction". Being original may be as simple as: "be pro-active, not reactive."
The answer to: "how to be original" is but a few clicks away if the entrepreneur is willing to sharpen the saw.
Two sources to appear original:
Government
Studies from Universities
A little known resource you will not hear in people talking about over coffee is the US Government Accountability Office.
The U.S. Government Accountability Office (GAO) is known as "the investigative arm of Congress" and "the congressional watchdog." GAO supports the Congress in meeting its constitutional responsibilities and helps improve the performance and accountability of the federal government for the benefit of the American people. Read More About GAO
With the advent of Wikileaks, the happiness quotient with the Congress, the hype of media and the distractions of social media; it makes sense to spend a portion of the week reviewing the work of the government. The US Government Accountability Office (GAO) offers a different view vs. the typical reporting.
It is not shiny, it has low sizzle and so much of it will not be directly relevant to your business. The information won't be seen on the news. Social media buzz will talk about things related to ego or control.
Of the 7 billion (and growing) people, how many spend time using the GAO webiste? With an Alexa Ranking of about 100,000, there is more interest in other websites than in the office that is expected to be the watchdog for the federal government.
It is a risk. Originality can also cause alienation and the world might be a bit more lonely.
There is risk to being original Take the risk and be surprised. Be one of the few who will actually review the US Government Accountability Office website. Make your own "Did you know" video from what you find.