Websites are blacklisted, banned, blocked and controlled in businesses and government offices. The following graphics show the top ten blacklisted websites along with those which are blocked, filtered and whitelisted. Facebook is #1 on the first list.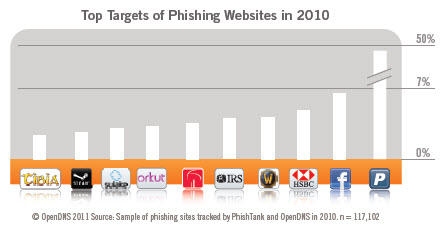 These graphs are from a study from DNS-resolution service OpenDNS, "2010 Report on Web Content Filtering and Phishing" details just what sites companies were most likely to block last year.
If your business begins to depend too much on social media websites as a means to create success, do you believe the filtering systems in business become more controlled? Will the trend over time be for companies to gain more control? Will more websites be "blacklisted" as a result?
If you believe the answer is "Yes", how does this influence your decision to invest money into social media websites?
Do you believe that as companies and the government increase control over their computers and improve filtering systems, that the response by employees will be to rely more on mobile devices to maintain their connection with their world outside the work environment and thus bypass the issue?
If you believe that employees will move activity during the work day to mobile, how does that change your online marketing strategy?
If an entrepreneur is to invest time and money into social media only to have potential buyers blocked and blacklisted, then having a core website which is mobile ready may be a consideration.
Another option is to teach everyone how to view blocked and blacklisted websites. This video shows how to view blocked or blacklisted websites.
Prediction:
Increased security and control is expected in business and government.

More software will be created to get it done.

Mobile ready websites will be beneficial.
Don't rely too heavily on potentially blocked websites (social media sites).
By 2013 there will be a trend of "Unlike" of business fan pages where push marketing is done via FB pages.
What is your prediction?