A small business owner may not believe that Cloud Computing is much more than a higher cost, more sophisticated way of doing the same work. Owning a computer, buying and updating software is the expected (though unappealing) norm.
This video about Cloud Computing will inspire you to pause and ponder. Less costly, more flexible, more potential, less training and less capital investment are a few of the benefits.
"With Online Services, we are able to reduce our IT operational costs by roughly 30% of what we're spending now...that allows us to more rapidly scale or divest our investment as necessary as we undergo a transformational change in the pharmaceutical industry"
- Ingo Elfering, Vice President of Information Technology Strategy, GlaxoSmithKline
Now you know more details about why Cloud Computing is important to future business success, it is time to connect with a cloud computing services company to help you take the next step: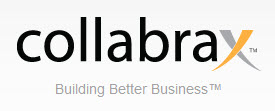 "Your business can benefit from reduced costs and increase performance by migrating the IT infrastructure and applications to the cloud using the best SaaS providers. Collabrax promises to promote growth, scability, and cost savings so that you can get back to what you do best, running a succesful and profitable business."
The Five Essentials to Business Success emphasizes the need to stay on the edge of technology or get left behind.
What will keep you from moving to the Cloud?