Google maintains search lead; Ask.com gains New York—Google accounted for 71.43% of all U.S. searches conducted in July, virtually unchanged from the previous month, according to Experian Hitwise. READ more about search data ...

Eye tracking is fascinating to think about in and of itself. Interestingly enough, Shari Thurow ...
Eye tracking is fascinating to think about in and of itself. Interestingly enough, Shari Thurow of Omni Marketing Interactive spoke with WebProNews about eye tracking research. According to her, the research endorses universal search.
As she explains, marketers need to ask themselves if their videos, images, and graphs are doing their jobs on pages. These elements should be reinforcing the brand and pointing people in the right direction. If not, she advises marketers to conduct keyword research to determine if the users even want the universal elements. Read more about eye tracking ...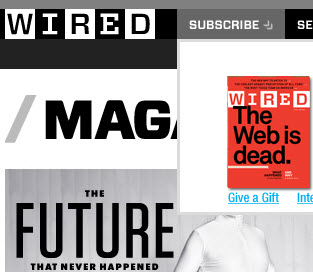 By Chris Anderson and Michael Wolff
August 17, 2010 | 9:00 am | Wired September 2010
Two decades after its birth, the World Wide Web is in decline, as simpler, sleeker services — think apps — are less about the searching and more about the getting. Chris Anderson explains how this new paradigm reflects the inevitable course of capitalism. And Michael Wolff explains why the new breed of media titan is forsaking the Web for more promising (and profitable) pastures. Read more about the Internet ...

Facebook has taken the world by storm - both for business and pleasure. Still not signed up? Getting started with Facebook is easy and fast and completely free. Here's how to create an account and start setting up your Facebook profile...Read more
Wish you could add imagery to your blog post without having to leave the blog platform to get it? Well now you can. Thanks to a new plugin by iStock member gutewolke, Wordpress users now have millions of low-cost, high-quality iStockphoto images at their fingertips.

The plugin even pulls the tags from the actual blog post into iStock's powerful search engine, which it uses to suggest appropriate images. The entire transaction can be completed in a matter of seconds.

Deliver the strong visual impact you need without a lot of extra effort, and you'll have more time to start thinking about what you want to write next. The plugin, co-developed by Lee Torrens and Amos Struck, is available in the Wordpress Plugin Directory. Get the Plugin
Read more. Don't read Sales Stuff from someone doing a pitch. Google alerts are easy to set up and then the news comes to you. Never say: "I am stuck" for what to write about when it can drop from they virtual sky automatically.