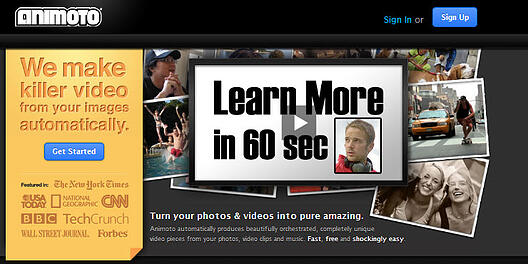 New start-up companies with only a few years of business history can be risky to use. Relying too much on any one company for service that may impact your profit may leave you scrambling.
Motionbox.com is now owned by Snapfish which is a subsidiary of HP.
Snapfish does NOT have embedded video sharing as an option and with their purchase of Motionbox.com it appears those who have videos that are embedded will be in a rush to download and then upload them again to another source.
Here is the notification in the email inbox today:
Dear Motionbox member,

Very important news about your Motionbox account! We are pleased to announce that Snapfish by HP has acquired Motionbox Inc.'s video technology platform.

The Motionbox.com service will continue to operate through August 10, 2010. Until then, you'll be able to log in to your Motionbox account to download videos you wish to save back to your computer. After August 10, 2010, you will not be able to download your videos from Motionbox.

As an industry-leading name in digital photo and video storage and sharing, Snapfish is trusted and preferred by over 90 million members in 22 countries. And, with the technology muscle of parent company HP, Snapfish is your reliable new home to upload, save, and savor your most memorable video moments.

As a Motionbox member, you can now try the Snapfish Home Video service for 30 days - FREE! Here's all you need to do:
Go to Snapfish. (I already use Snapfish)
Create your Snapfish account, or sign in if you're already a member.
Start enjoying your 30-day free trial today (upon your first video upload).
And, if you are new to Snapfish, we're eager to introduce you to our additional products and services and offer you a FREE 8" x 11" Custom Cover Photo book (a $29.99 value) when you create your new account. Act fast, though – this welcome offer expires July 31, 2010.

We look forward to seeing you at Snapfish, your new home for all your memorable moments.

Cheers!
Snapfish by HP
*Why do people new get a freebie? Why not those who are current and dedicated?
More information from the website:
What will happen to the Motionbox videos that I've embedded on other sites?
We cannot guarantee that your embedded videos will remain playable after July 31, 2010, so we strongly suggest that you upload these videos to another service and re-embed them on your blog or website.
Will Snapfish Home Video allow me to embed my videos on other sites?
The ability to embed videos is not currently one of the features of the Snapfish Home Video service.
Will my stored videos be transferred automatically to Snapfish?
Nothing will be transferred to Snapfish without your explicit consent. For now, if you want to move your videos over to a new or existing Snapfish account, please download them from Motionbox, and then upload them to Snapfish.
This leads me to a point:
Use Animoto or Brainshark for your presentations and videos.
Animoto is one of my favorite tools and Brainshark continues to provide outstanding value.